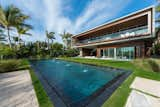 From Brodson Construction
The home's design uses raw materials including exposed concrete, stone, and teak wood to express the ultra-modern rectangular forms, set within an authentically manicured natural site. A 1,800-square-foot covered terrace features a full outdoor kitchen and sunken living room. The surrounding landscape features a clean linear salt water pool positioned parallel to Indian Creek, as well as a natural swimming pool that measures 100 feet by 30 feet filled live fish. The lagoon also features an organic filtration system.
The interior program of the home is dictated by the second floor public living space, which frames a view of Collins Avenue and the iconic Eden Rock and Fontainebleau hotels, and boasts a rooftop terrace capitalizing on the same view. The ground floor features a string of four bedrooms, which open to the natural swimming pool and ends with a corner view master suite facing the water.
Visible from Pine Tree Drive and adjacent to the bedroom wing is a separate area of the home which can be used as an indoor half basketball court, entertaining hall for parties or art exhibit area. This room serves as the anchor of the house, cutting off the private experiences of the home from the street. A winding 200-foot bridge connects one from the front of the home to the rear.