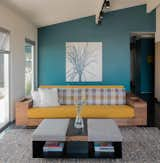 From Omgivning Architecture/Interiors
Los Angeles firm Omgivning renovated OM Home, a 1959 residence on a tight hillside site in the Mount Washington neighborhood of Los Angeles. OM Home shows how creative reconfiguration can resolve the challenges of tightly constricted sites.
This three bedroom and two bathroom home, owned by Omgivning principal Karin Liljegren, has an added a master suite through the conversion of the existing garage all while maintaining its modest 1,300 SF.
To emphasize the vistas and the house's connection to the outdoors, the project maximizes glazing and openness. Maintaining the existing structural headers at the glazing limited the need for structural upgrades (saving on project costs) while lowering the sills to the ground, brought even more of the outdoors indoors. The home's perimeter wall was left intact to avoid triggering many structural upgrades, which can be particularly expensive on hillsides. Meanwhile, the interior partitions were reconfigured for maximum efficiency and awareness of the exterior.
The driveway became a landscaped "outdoor room" for cars, mail delivery, and waste bins. A gate in the new carport opens onto a more deliberate entry sequence so that visitors walk into a cozy path with drought-tolerant landscaping that frames the home's incredible view and a new entry through a side door. The small but lush area quickly gives way to a downhill terrace that looks onto nearby hills and valleys and a panorama of the San Gabriel Mountains.
Custom pieces like a twenty-foot steel fountain, planters, wood terraces, and a steel trellis to hold a hammock define the newly curated landscape.
OM Home became a laboratory for experimenting with custom pieces and prototypes for Omgivning's future design and fabrication product lines.
Liljegren and her Omgivning collaborators, along with Kelly Kish of Konstruct, and Kasey Ariel and Norella Carboni of Base Collaborative, designed almost all of OM Home's custom millwork and furniture, light fixtures, hardware, and detailing. Artwork in the home is by Jill Sykes and Clara Berta.