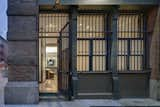 Credits
Interior Design
Adam Waszescik/ CPQ Custom Interiors, LLC
Builder
Mai Min J (MJ) / Great Will 88 Contracting Inc
From Lilian H. Weinreich AIA
This 1,500sf NoHo Duplex was reconfigured and redesigned as a first home for a young couple's casual lifestyle and expanding family. With thoughtful planning, the existing one-bedroom, two-bathroom duplex was converted into a three-bedroom, two and a half bath family residence with large den/family room and open, flowing interior—greatly enhancing real estate value without sacrificing design, function, or space.
The kitchen, dining, and lounge spaces flow seamlessly to the private areas on both levels. A folded glass and metal privacy screen at the street level entry cleverly shields the apartment from street view. At the rear of the reconfigured upper level, a series of 11-foot high, fully retractable, glass and steel-framed door panels separate the new guest powder room and compact master bedroom and bathroom suite.
On the lower level, pocketed sliding doors between two bedrooms create a flexible space for the two young children—open as a playroom during the day and subdivided at night for sleep.
The lighting scheme was designed to enhance the spatial qualities with an innovative solution found at the transition between ceiling heights. On the upper-level, lowered lit-cove edges are ghosted behind 11 foot glazed panels, as seen above the entry to both the powder room and master bathrooms. Backlit dropped-ceilings at the long rear wall of the master bathroom, and the lower level family area further heighten the space while giving the interiors a warm glow.
The design and fabrication of the staircase to meet code and child safety requirements presented the project's most significant challenge. The staircase's co-planar, clear-tempered glass rails and childproof open slots elegantly comply. A sizable post concealed in the wall support the welded bent steel angles, attached with moment connections. A fumed rubio-monocoat finish on the red oak wood flooring of the floating stair treads and throughout both levels lends warmth to a graphically neutral and steel interior. For a unique handcrafted industrial appearance, masterly Korean tanker warship metal fabricators forged all of the project's metalwork, including the stair supports and door panels, on site.
Simplicity in design and uniqueness in resolution are key to this alteration.