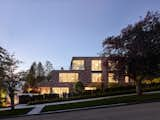 From BLA Design Group
BLA Design Group and Wiedemann Architectural create modern brick house which integrates into a long sloping site, and features sweeping views westward over Vancouver.
The Nanton Residence is a modern brick home located in Vancouver, Canada. Designed for a large multi-generational family, this residence makes a bold statement from its position on a highly visible corner lot next to Vancouver's Arbutus Greenway. The house is a collaborative project between Wiedemann Architectural and an emerging studio, BLA Design Group. The practice of BLA Design Group is built around an approach to architecture in which each project is led by the unique conditions of both the local and site-specific context, as well as the idiosyncratic needs of each client. The Nanton residence embodies these objectives as it comprises a series of large terraces which integrate into a long sloping site, and feature sweeping views westward over Vancouver.
The project is an example of a unique local residence that fully embraces the characteristics of the sloping, corner site condition. It is an impressive example of modern residential architecture which utilizes its location, orientation, and site topography as key design drivers. The Nanton Residence will be a longstanding home that will meet the family's needs for years to come.