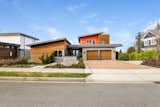 Japanese Builder Ichijo Creates Net-Zero Energy Home
From PlanOmatic
Japan's largest builder, Ichijo, built this home in 2013 as a technology showcase, boasting a 50% greater unit build cost than a code home. It sold for a cool $1.9M earlier this year.
With Japanese design elements, it is relaxing, comfortable, and designed for interior air quality. It is extremely efficient, and was designed with solar panels to make it net-zero energy. Dramatic design combined with the newest, cleanest technology helps to lower the carbon footprint while being aesthetically pleasing.
The layout features a completely level entry with a one-level living compatible floor plan and designed for an elevator for inter-generational living.