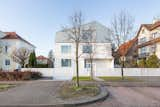 From IFAgroup
Architects from IFA group Kamil Domachowski's architectural studio in Gdańsk www.ifagroup.pl realized this project in the geometric center of the Tri-City, i.e. Gdańsk, Sopot and Gdynia in Poland. The house is located at the junction of two districts – one very historic and one very modern. The shape of the building created by architects is a historical feature in a modern interpretation.
The elegant house is located in a residential district of Gdańsk - architect Kamil Domachowski www.ifagroup.pl describes the project - The word "solid" in relation to this house seems very appropriate, because the house is carved out of a single snow-white block . The entrance area is drawn outwards from the same material and the shape of the roof above the entrance corresponds to the shape of the roof of the house. It is worth noting that the window woodwork matches the color of the wall finish. The windows on the ground and first floors are white, and at the top, the windows are the same color as the titanium-zinc roofing sheet.
The house stands between two buildings, one lower and the other taller.
The size and shape of the roof result from the line connecting the two adjacent buildings. As a result, the mansard roof crowning the house is contrarily tilted. The very form of a mansard roof is due to the need to increase the space underneath it. The tracts are divided into two parts - one is almost vertical, the other - almost horizontal. The name comes from the name of a French architect - Mansart, who lived in the 17th century.
The minimalism of this house is emphasized by the smooth transition of the roof plane into the wall plane. The geometric shape of the roof is echoed by a repeating oblique pattern of the seams between the sheets of metal. A sheet metal "cap" placed on the building optically reduces its dimensions. The roof of this building is an interpretation of the mansard roof, the form of which engages in dialogue with the neighboring buildings in the frontage, entering into a relationship with them. Despite beeing modern, it's not overwhelming, but rather subtly fits into the context.
Design Team: Kamil Domachowski, Maciej Busch, Karolina Wood, Adrianna Jemioł, Jakub Brzuchański
Photo credits: Jakub Nanowski (photos);
Photographer's website: perspektywa.net.pl
Photos from drone: Sebastian Małyszczyk www.polandbylocals.com