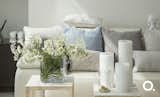 From Studio.O.
The architects from Studio.O. prove with their project that even a property with 40m2 can be spacious as a result. Nowadays, the concept of a studio is no longer associated with low income. It is ideal for nomads. People who travel and work remotely for most of the time do not get attached to one place. Their curiosity about the world makes them constantly change their location. The studio gives nomads the opportunity to return, at least for a moment. Sophisticated, elegant, small spaces are the response to needs of wealthy people who appreciate independence and minimalism.
The biggest advantage of the studio is a wall of windows lighting each of its nooks and crannies. Thanks to this solution, the natural light can affect the interior and the well-being of the householder until late hours.
On the opposite side of the window wall there are living room and open kitchen. They are different not only because of their function and use, but also their colors and finishing materials are different.
The living room is characterized by beige, subdued, bright shades. It is a minimalistic space, but it gives an impression of warmth. The kitchen, on the other hand, is predominant - heavier and stony. The architects used Blend Brown Marazzi tiles to cover the walls and the eaves. The kitchen is separated from the living room by a small island with a Silstone Doradus worktop. The unique design of the kitchen is the result of the cooperation between Studio.O. and the carpenter's workshop.
An intriguing part of the project is undoubtedly lighting. The kitchen uses a subtle Artemide Talak lamp - a white line attached to the top of the island. A similar lamp is located over the wash basin in the bathroom - a brown line constructed by the carpenter's workshop according to the architects' design. The other light sources are hidden in the K-G buildings. The architects used a Raumplus sliding door. They form a movable wall that separates a minimalist, raw bedroom from the living area of the apartment. Simple shapes and forms as well as natural colours and materials are the ideal solution for such a space. The bed and its development was designed in accordance with the Studio.O. project. They are characterised by a minimum of decorations and invisible joints.