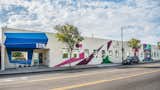 HATCHlabs @LA Bioscience HUB
Credits
Interior Design
HATCHspaces ® / BAM Collaboration
From ASG Real Estate Inc ®
The Los Angeles region has long been a top national cluster for early stage life science innovation. As a region, Los Angeles receives nearly $1 billion in NIH grant funding and generates $40.3 billion per year in economic activity. Despite these strengths, the LA region has lagged behind other top markets in delivering purpose-built life science lab facilities for early stage companies.
HATCHspaces ® LLC has addressed this problem head on with the delivery of HATCHlabs @the LA Bioscience HUB. Originally built as a wood turning factory that had fallen into severe disrepair, the life science development firm has meticulously renovated the 20,000 SF warehouse into a purpose-built R&D facility for emerging companies in the life science industry.
Building upon the economic development efforts created by the city and county of Los Angeles, HATCHspaces ® utilized the principles of Entrepreneurial Planning to revitalize a dilapidated industrial building that once housed two low paying jobs into a thriving center of life science activity and home to over 40 high paying jobs within the life sciences.