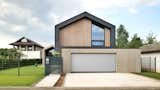 From ZROBIM architects
Concrete, glass, metal, wood in new project GREENHOUSE by ZROBIM architects.
The Barnhouse, one part of which is made of concrete while another one is assembled from metal, all glass on the first floor, which is one of its main features. That is why we gave the project such a name - GREENHOUSE.
The project combines a successful interconnection of compositional techniques and natural textures of decoration. The second floor, faced with a seam, hovers above the light outline of the glass first. A garage block made of natural face concrete balances this composition.
The interior of the house is zoned with functional blocks and separate walls, which helps create an environment with different scenarios of life in the house and achieve privacy.
A two-storey Barnhouse stands out from the usual rustic scenery. There is nothing similar nearby. We believe that thanks to this house, other buildings on the street will gradually begin to transform.

Studio: ZROBIM architects
Architects: Alexander Zhalovsky, Andrus Bezdar
Photo: Andrey Kondrikov
Location: Minsk, Minsk region, Belarus
Area: 229 m2
Year: 2021
Design year: 2019