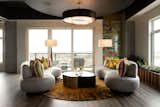 From Marimar McNaughton
Wilmington-on-the-Cape-Fear River, a very pretty historic city where an eclectic mix of Federal, Victorian and Arts & Crafts era architecture connects the downtown districts to the Revolution, the Late Unpleasantness and the Reconstruction, is the easternmost of North Carolina's five fastest growing cities.
Known as the Port City, its centerpiece is River Place, a 13-story highrise, three years in the making. Gangway, the name given to the structure's northwest penthouse, looks toward the city's up-and-coming north end, all of the downtown historic districts, east, and the Cape Fear River basin, west. This round-peg-in-a-square-hole showplace, completed in October 2020, was custom designed by Danielle Saintard Valiente of Port City Design Group and Rob Romero, AIA.
Overthrowing common coastal east-is-right and west-is-left perspectives, Port City Design Group and Romero Architecture reinterpreted the interior floorplan by breaking down a few past-their-prime idioms.
Instead, less nailing, more streaming. Hard corners are replaced with supple curves like the nearby river's layered currents; and boxy soffits are re-configured into fluid circular forms. Resilient bamboo floor planks are softened with serpentine tile inlays, while seamless marmoleum floors blanket the private sector; and cork walls and ceilings surface in prime entertaining spaces to cancel the noise.
The salon and adjoining lounge palettes are inspired by Wilmington's unblemished western skyline and the iconic Battleship North Carolina, the WWII warship permanently docked on the left bank of the Cape Fear River. Nose first in her berth, her call number, 55, painted into her Carolina flare -- the bright white splash across the gunmetal gray hull is softly backlit during the golden hour of sunset.