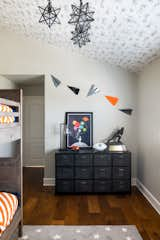 Expanding Function — Not Square Footage — in Manhattan Beach
From Alexandria Abramian
The design challenge came when clients announced they were expecting their third child. Suddenly, the four-bedroom, three-bath home in Manhattan Beach would require a reconfiguration.
More specifically, the husband's dedicated TV room would need to revert to its original bedroom status.
But this was no ordinary man cave. It was a special retreat for Matt Leinart, a Heisman Trophy winner, former Arizona Cardinals QB, and current Fox announcer.
The room housed a large screen television along with seating for small groups. There was also no shortage of game day footballs and other memorabilia.
It all had to go.
Hunter Carson Design was tapped to transform the man cave into a pre-tween space that would be high on storage, function, and fun.
The result is an aviation-themed retreat that shows few vestiges of its former life as a football viewing room. Hunter Carson Design founders Lynn Stone and Mandy Gregory gave the room charm and personality without carbon-dating it with details that would feel childish in the coming years. They mixed new and vintage-looking elements to give the room and layered, not-designed-at-once feel, and added elements like star pendants and wallpaper on the ceiling.
The design isn't all sacrifice for Leinart, however. The designers created a hallway bar with a built-in wine cooler, counter space, and — perhaps most important of all — a new home for his Heisman.