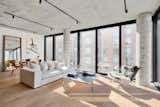 Curated East Village Penthouse
From Compass
In a neighborhood that was once more famous for punk rock than penthouses, 3E3 is both at once a nod to the industrious roots of the Lower East Side and a stunning example of the area's artistic evolution.
The penthouse at 3 E 3 offers three spacious bedrooms and three baths as well as a private outdoor space with over 1,000 square feet overlooking the Bowery. Designed to express bold, monolithic forms, this duplex home is flanked by walls of windows, white oak flooring with radiant heat throughout the apartment and soaring exposed concrete ceilings.
The space was recently curated by art & creative collective Good Luck Dry Cleaners - which made its way from a defunct Williamsburg Dry Cleaners to the ground floor of 3E3 that currently houses the pop-up showroom and art gallery. Founder Phil Reese handpicked and commissioned works by featured artists including:
Edward Acosta
ELO
Jeremy Penn
MJ Laberge
Phil Reese
Ricky Powell
"The design of 3E3 is a gorgeous tribute to the Bowery, both past and present. We wanted the art to accentuate the clean lines and luxurious feel of the space with beautiful work that contained spray paint, graffiti and street art as a nod to the cultural significance of the Bowery in a way that's both rough and refined," said Reese.