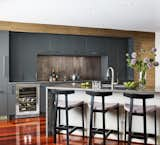 Contemporary Home With Colorful Hues
Credits
Interior Design
Margery Wedderburn interiors
From Angelica Angeli
Northern Virginia's Margery Wedderburn Interiors gave this 1970s home a showstopping contemporary facelift. This team incorporated unique design elements throughout the home. Among these are the globe-trotting client's treasured travel souvenirs, from a Budhha to thought-provoking art pieces.
The living room is designed as a relaxing hub with comfortable furniture, soft cushions in ethnic prints, and lamps with terracotta-colored lampshades that match the cushions. Plants add a natural, organic feel to the space.
In the kitchen, one of the most stylish spaces, I love the attractive slate-gray cabinets, polished wood flooring, and elegant hardware. Comfortable bar chairs surround the beautiful kitchen island with its luxe marble-patterned countertop.
The dining area has an elegant wooden desk with upholstered chairs. An accent wall with patterned wallpaper provides the perfect backdrop for a striking piece of framed art – an ideal conversation starter.
The bedroom is a haven of relaxation after a long day. The luxurious bedding makes me want to sink into a deep slumber instantly. The bathroom features wave-patterned wall tiles and a stylish wooden stool and cabinets for a touch of organic sophistication.
My favorite space is the cozy reading nook in the library. Comfortable sofas bathed in natural light make a perfect corner to curl up with a favorite book and hot drink – a rainy day bonus! The clients' vast book collection is displayed amid multiple hues of blue paint for a cool, classy feel.
Explore more designs by Northern Virginia's Margery Wedderburn Interiors on margerywedderburninteriors.com
Photography: Stacy Zarin Goldberg