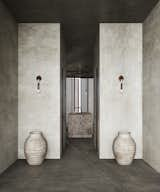 From Gema Gutiérrez Aguilera
Overlooking the bay of Son Servera, a stretch of pink coves, white sand beaches and turquoise waters in the northeast of Mallorca, Casa M21 was conceived by the Spanish studio PUNTOFILIPINO as a summer retreat in intimate communion with the Mediterranean landscape of the island Gimnesias inhabiting unpretentious.
Cubist in volume and earthy texture, the compact structure runs a fine line between the enclosure and the opening, the modernist and vernacular architecture, drawing, in equal measure, the design of the modernist villas and the materiality of the ancestral houses of the owners.
Perched on a ridge 300 meters above sea level, the house enjoys panoramic views of the Mediterranean Sea stretching south, as well as spectacular views of wild meadows that make up a scene of untamed beauty, strategically framed by a series of openings that firmly anchor the minimalist interiors with the terrain of the island.
Their challenge was twofold: the house had to blend in with the surrounding landscape and be on equal footing with the unique architecture of the area.
Backed by a palette of natural materials and earthy colors, interior design "plays with the concepts of authenticity, comfort, simplicity, origins and aims to create a parallel between the interior and the exterior beauty of the landscape, the undisputed soul of the place."
Materiality, texture, color are the key points in the design of PUNTOFILIPINO. Raw earth-toned concrete and Marazzi terracotta ceramic on the walls perfectly complement the exposed wooden Venetian blinds around the periphery of the entire home. Wood and natural stone surfaces further enrich the canvas of natural materials, with blue tiles and Apparatus brass, leather and jasper pendant lamps adding to the texture palette. A series of floor-to-ceiling deep blue accents add pops of color, while the use of hickory wood on the freestanding shelving adds to the sense of refinement and craftsmanship.
Minimalist in design and austere in decoration, the interior is furnished with contemporary pieces, including renowned firms Apparatus, Gessi, Living Divani, Alinea, Alivar and Vaselli, mixed with iconic pieces such as the Siam lamp by Sicis and the traditional Tessa chair by Flexform. Chairs that pay tribute to the island's artisan heritage.
The choice of natural materials deepens the house's dialogue with its natural surroundings and echoes Mediterranean craftsmanship, imbuing the house with a sense of durability and humanity.