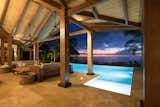 From Pablo Castro
Brisas del Cabo
Escondida entre las montañas de Malpaís, en Cóbano, se encuentra el escape para el alma que es la residencia Brisas del Cabo.
Este proyecto, realizado en el 2014, buscó sobre todo maximizar la apreciación de la increíble vista que nos proporcionaba el terreno, y al mismo tiempo lograr un equilibrio entre las necesidades de comodidad y relajación de los clientes y un diseño agradable y fresco.
Disfrutar la vida "afuera" fue una de los ejes temáticos sobre las que giró el proceso de diseño. Mediante el uso de ventilación natural y cruzada, se logró que inclusive durante el abrasador calor del mediodía típico de la zona, los habitantes de la casa puedan disfrutar sus áreas comunes sin necesidad de coadyuvantes artificiales para agregar frescor.
Las amplísimas terrazas, que nos recuerdan la sabiduría de nuestros abuelos al construir grandes corredores en las casas guanacastecas de antaño, permiten el contacto directo con la naturaleza, y la línea entre el adentro y el afuera, virtualmente desaparece. Las espaciosas áreas comunes, tanto internas como externas, carecen de divisiones, lo que permite la interacción entre las personas desde varios puntos de la vivienda.
La vegetación existente en el resto de la propiedad fue conservada prácticamente intacta, lo que a la larga ha resultado en una variada fauna que se puede observar alrededor de la residencia, aumentando de esta forma la sensación de contacto con la naturaleza y equilibrio con el ambiente.
Del arquitecto: Nacido en Cóbano, Pacifico norte de Costa Rica, y donde se ubica gran parte de sus obras, conoce desde niño el clima, los lugares, playas y los materiales con los que ha formado una paleta que implementa en los diseños. Defensor del diseño bioclimático, busca aplicar sus conocimientos en tropicalizar la arquitectura. Ve con recelo como a veces se construye con conceptos y criterios de ciudad y de otros países con otro tipo de clima y los imponen en esta bella costa de clima tropical seco y tropical húmedo, de ahí su interés por desarrollar el tema de la "tropicalidad" en la arquitectura, tratando siempre de no alterar el entorno y de armonizar la arquitectura con el clima, naturaleza y todo el entorno.
------------------------------------------------------------
Brisas del Cabo House
Hidden in the mountains of Malpais, Cobano, is the soul-escape retreat that is Brisas del Cabo residency.
This project, completed in 2014, pursued among other things to maximize the appreciation of the incredible view in the property. At the same time, we needed to achieve a balance between our clients' needs of comfort and relax and a nice and fresh design.
Enjoying the life outside was one of the thematic focuses of the designing process. With the use of natural and crossed ventilation, the house's inhabitants can enjoy the common areas without the need of artificial artifacts to generate a cooler sensation, even in the very hot ours of the midday.
The large covered terraces, (that remind us of the wisdom of our grandfathers who used to build big corridors in the old "casas guanacastecas), allow direct contact with nature, and the line between inside and outside virtually disappear. The spacious common areas, both internal and external, were designed as open spaces, which allow an easy interaction in the people from various points of the house.
The existing vegetation in the rest of the property was preserved intact, and that fact has resulted in a variety of fauna that can be observed in the surroundings of the house, increasing the sensation of being in close to nature and in balance with the environment.
About the architect: Born in Cóbano, in the north Pacific cost of Costa Rica, and where most of his work is located. He is familiar since he was a child with the weather, the places, beaches and materials of this area, and all of that has resulted in a palette that he implements in his designs. Supporter of the bioclimatic design, he seeks to apply his knowledge to tropicalize the architecture. He sees warily at those that sometimes build with concepts and criteria from the cities, or from other countries where the weather is so different than this beautiful coast, with our dry or rainy tropical weather. From this fact comes his interest to develop and apply the subject of the "tropicalidad" of architecture, looking always to keep the environment untouched, and to harmonize architecture with the weather, nature and the surroundings.