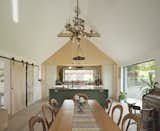 Credits
Builder
Alan Buchan contractors Ltd
From Fiddes Architects
Camhanaich is located in an agricultural area in rural Aberdeenshire. The design brief was to design a home for our client to retire, and to enjoy independent living later in life. The Design was contextually driven from the building forms and material seen in this the area. The result is a single story house which embeds itself within the natural topography of the picturesque landscape by which it is surrounded.
Camhanaich has been carefully designed in a staggered H-plan. The Northerly living section of the house provides a vaulted open plan living, dining, and kitchen space with large glazed elements to enjoy the views and maximise morning and evening sunlight. The section to the south offers private accommodation spaces and housed by a 40 degree roof pitch. Sitting between them is a flat roofed link section which welcomes you into the generously sized entrance hall. An accessible master bathroom is located here ensuring distance to this is minimised from the farthest points of the living and private dwelling spaces.
The external material choices are sustainable and reflect the simple agricultural characteristics of the site and compliment the landscape in the changing seasons of the Aberdeenshire countryside. The building skin is clad in Thermopine Cladding with a factory coated Ebony Microtex finish with a Black Corrugate Steel Roofing which contrasts the copper down pipes and lighting. The main entrance feature to the house and link to both sections is clad in pigmento red standing seam zinc, with locally reclaimed granite stonework.
The building was designed using a 140mm timber frame with full fill mineral wool insulation between the studs with an additional layer of 30mm PIR insulation to the internal face with a high performance VCL over. This specification provided a relatively low cost solution to the insulation envelope whilst significantly surpassing the Current Building Regulations with an impressive U-Value of 0.17 W/m2 K. The site location is often susceptible to power cuts following storms, for this reason when the power goes down a generator kicks in to provide power to the well pump and also basic power needs to the home . The home has been designed to allow the easy future implementation of Photo Voltaic on-site power generation and battery storage.
The client has tastefully used reclaimed furniture to add to the aesthetic appeal. A cracked paint stable door was re-purposed as a barn slider for the larder adjacent to the contrasting simple birch plywood slider. An old rusty farmer's cart wheel was sealed and used as a pendant light over the island. Pitch Pine Dressers, which our client had for a number of years, were stripped, painted and housed between built in Birch Plywood units matching the kitchen bulkhead and surround.