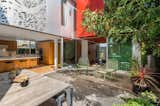 An Inside Look at The California Poppy House
From Luxury Homes & Lifestyle
The California Poppy House was designed by its architect owners, Jonathan Ward and Jin Ah Park. An iconic and celebrated property in Venice, this 2,900-square-foot home's most striking feature is the silhouette of a poppy silhouette laser-cut into an aluminum screen that wraps the second-floor facade. This piece of structural art boasts a dramatic effect as the facade shines in the day and illuminates as the sun sets into the night.
Strategically designed to create a sense of openness to the community, the low fence exposes the home's one-of-a-kind design to the greater neighborhood. Providing a feeling of peace and tranquility, the front is full of California flora from the Theodore Payne Foundation for Wildflowers and Native Plants and is a vision of green thanks to the lush foliage leading up to the front door.
Upon entering the home, it is evident that it was envisioned to offer true indoor, outdoor living. The open-floor plan and sweeping walls of glass extend beyond the main level to the sun-filled courtyard. The year-round sunshine and coastal breezes can be enjoyed from every level's glass sliding doors. Each space showcases meticulous modern design and a rare artistic quality. Featuring voluminous scale, the main level includes an open kitchen, dining room, living room and additional bedroom. On the upper level, two bedrooms with seating areas offer a serene, private space with ample light. The home also features two gorgeous private gardens with exotic fruit trees, an elegant interior courtyard perfect, a two-car garage and playhouse.
The home's connection to nature is felt throughout, with design nods to the owners' travels around the world. With sustainability being a key focus in its creation, the home includes solar panels on the roof that allows net-zero energy usage of this modern three-bedroom, three-bath home. Just blocks from Abbot Kinney and the scenic boardwalks along the Pacific Ocean, this property offers elevated Venice living.
732 Brooks Avenue is offered at $3,395,000
Represented by Lindsay Guttman and Alexandria Brunkhorst of The Agency.
Lindsay Guttman: (424) 400 5914
Alexandria Brunkhorst: (424) 231 2418