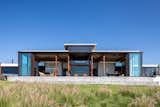 From Candida Tabet Arquitetura
Designed for a couple and their two children, this vacation house is unique due to the relation it has with its site.
Nestled longwise onto the site and arranged in a semi-circle array, this one floor house has six bedrooms and its social and leisure areas are entirely wrapped in glass while facing the golf course.
The two-lane swimming pool connects the facade overlooking the golf course by creating an interaction between the inside and the outside and transforms the living room into a great covered terrace once set up against the glass curtain wall that makes up this facade.
The master bedrooms suites are placed along an important circulation gallery and a pattern of spaces left between these two elements allows for a generous amount of natural light to induce transparency into the spaces.
The roof was done in OSB boards and a waterproof membrane structured over exposed beautiful solid Cumaru wood columns and beams without the use of concrete. The floor finishes were done with cement-based materials.