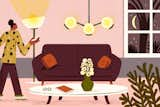 Dwell On This: Rise Above Your Recessed Lighting
Can lights can be mood killers, but there are ways to mellow them out.
Experience
This won't be too complicated.
Budget
Think about buying dimmers or color-customizable smart bulbs.
Time
It's a quick change with long-lasting impacts.
While the appeal of recessed lighting is understandable—can lights are unobtrusive, convenient to use, and produce an evenly distributed glow—it's time for its popularity to dim. Unless you enjoy sterile, overhead lighting that recalls department stores and casts unflattering shadows, it's time to can the can lights—or at least make them a lot less noticeable.

Join Dwell+ to Continue
Subscribe to Dwell+ to get everything you already love about Dwell, plus exclusive home tours, video features, how-to guides, access to the Dwell archive, and more. You can cancel at any time.