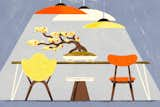 Dwell On This: Not Everything Needs to Match
Antique rug, meet postmodern chair.
Experience
No experience needed—just a sense of adventure.
Budget
Shop for a surprising new piece, or shake up the items you already own.
Time
It may take some time to get used to the idea, but edits can happen immediately.
Several years ago, my wife and I hosted a dinner party for an eclectic group of friends: Some we'd known a lifetime, and others only a few months. We liked everyone individually and hoped that an evening together would be a memorable one, and it was—two of the guests introduced that night went on to get married. That's the beauty of mixing and matching.
Join Dwell+ to Continue
Subscribe to Dwell+ to get everything you already love about Dwell, plus exclusive home tours, video features, how-to guides, access to the Dwell archive, and more. You can cancel at any time.