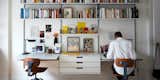 How to Start Collecting Art for the Home
Three emerging NYC-based collectors share how they're breaking into the art-buying world.
The art world can be an intimidating space, especially for a novice buyer eager to start a collection. Yes, art can be quite expensive (especially at reputable galleries) but even if you have the dough, art acquisitions aren't straightforward transactions where you hand off a credit card at a gallery and then you walk off with a $15,000 painting or sculpture under your arm. For the uninitiated, a collector looking to break into this ecosystem of artists, gallerists, and even museums takes a lot of time and effort. (I would even venture to say art collecting is an art form in itself given that it requires a finesse that's only earned after putting in the work.)
"A good collector is curious, excited, and truly cares about the artwork aesthetically and/or intellectually," says art and design publicist Elisa Smilovitz. "They ensure that the artwork will be properly hung or stored so that it does not get damaged. They have to be trustworthy and show a genuine interest in the careers of the artists within their collections." Building relationships is crucial because, ultimately, collectors are trying to convince gallerists that the art is going into the right hands. There are plenty of bad actors who might acquire a piece by a hot rising artist for the sole purpose of flipping it at auction, which could then destabilize that artist's career trajectory with manufactured, inflated prices. Gallerists want to avoid this scenario—so collecting art can often feel like a tango between the buyer and seller.
To get better acquainted with art collecting and for tips on how to break into the art-buying community, I spoke with three collectors who would all describe themselves as being in the early stages of their journey. Alex Abedine, a lawyer living in Tribeca, began collecting obsessively a few years ago as a way to take his love for art to the next level by "getting to know the art world, the artists, the gallerists, and the people that support them." Celine Mo, co-founder and co-owner of Dinner Gallery in Chelsea, uses the gallery space to showcase emerging artists she believes in (naturally, she collects from both the artists she works with and also artists she just loves). You can find Mo front-of-house, where she "deal[s] with all the curatorial stuff, artist management, and sales." And Ellen Van Dusen, the textile designer of the home goods and clothing line Dusen Dusen, started collecting works by friends and acquaintances and has since expanded to buying works from galleries by up-and-coming artists. "My first piece was by my friend Kindah Khalidy. I got this amazing big painting that opened up that world for me," says Van Dusen. "I've always been a big art fan but never considered that I could actually own anything. Getting that piece from Kindah changed my mindset about collecting."
Flex those social skills
"Generally speaking, you have to demonstrate that you're serious and that you're genuine," says Alex Abedine, who discovered early on that art collecting requires building interpersonal relationships with those who are in the community. "It's a privilege to be able to acquire art because it represents someone's passion, someone's blood, sweat, and tears, oftentimes literally. And the fact that you are living with it, you are now its steward, you are now responsible for it, you are now a de facto representative of that artist and of that gallery. For me as a collector, that's really my ethos," he says of how he chooses which art pieces to pursue.

So how does someone link and build? For Abedine, it's a lot of inquiring over email, chatting with gallery owners, going in for studio visits whenever possible, checking out MFA shows, DMing artists he's interested in, and introducing himself at various art events. Celine Mo, co-owner of Dinner Gallery, agrees with Abedine's approach about putting yourself out there. While getting in with established galleries will invariably be harder for newbie collectors, younger galleries are likely more willing and open to chatting about "the process or even just learning about their program and finding the best fit," says Mo. (Her advice here is pretty sound, as this is her role at her gallery.)
"Art by default is a very emotional experience so it can't be transactional," says Abedine. "You have to become friends—friends with the artists, friends with the gallerists—and you have to put in the face time, pop by the gallery, say hello, shake some hands, and be pleasant to work with."
Slide into DMs and use the Internet to your advantage
For Ellen Van Dusen, getting in touch with an artist she loves is always worth a shot. "I will contact an artist or gallery directly when something piques my interest to see if it's within my budget," she says. "I recently bought a piece from Paa Joe, an artist from Ghana, and I just reached out to him on Instagram. Sometimes the artist will direct you to their gallery and sometimes they'll be able to handle themselves. I think it's always worth it to ask!"
You can also use online art marketplaces to discover and get in touch with gallerists. Abedine bought his first canvas piece by Jessica Westhafer, "a phenomenal young emerging artist" from 1969 Gallery. He found Westhafer via Artsy, which was a useful tool in getting connected to gallery director Madeline Ehrlich who helped facilitate his first artwork purchase that wasn't a print or multiple. "That started a really good relationship with them and I've acquired several things from them since," Abedine says.
If you don't live in a city that already has its own vibrant art scene, you can turn to estate sales or auction sites like Everything But The House, 1stDibs, and Auction Housing Works for gems that you can purchase directly without a gallerist.
Start small—with prints
Yes, art can be very expensive so buying prints, multiples, or books is a more affordable entryway into collecting. You can usually find a selection of posters and other merch for sale at a gallery's web shop (you can then get it framed using a service like Framebridge). "A lot of artists do prints and it's a good way to learn about different artists," says Mo.
Be true to yourself
It may take some time to understand your taste, your aesthetic, and knowing how certain art pieces will work within your personal living space. "When I first started, I made all the mistakes that you could possibly make: trusting the wrong people, buyer's remorse, buying whatever people told me was cool or important rather than staying true to myself," says Mo. She's since learned from her mistakes and has honed in on a more thoughtful and confident approach to buying art. "An artist once told me that the best kind of art is one that either poses a question or tries to answer one," she says. "I feel like that really resonated with me, looking at things and thinking beyond my own self and my own body. It's what drives me when I make a decision to buy something."

Follow artists who share a similar aesthetic to that of your overall interior style, seek out their gallery, and get to know that gallery's roster. "Figuring out what you really want can be hard. There's so much out there, and it's a real-time commitment getting to a place where you have a good handle on the market," says Van Dusen. "My collection has a common thread which is bright, poppy, bold, and fun. I'm not drawn to anything that's too serious."
Join VIP programs
Abedine recommends joining groups like NADA's VIP Program and Frieze 91 which allows special access to art fairs, networking events, art parties, studio visits, and the like. There are applications and member fees involved, but some programs offer different tiers or levels depending on your budget. "A lot of collecting is an independent endeavor and it can feel rather alone and daunting. I like these organizations because they help close that gap," Abedine says. "There's a community of like-minded individuals who you can become friends with. I love the community aspect of it. It's very much come as you are, zero judgment."
Mo also suggests joining museum groups as another option to meet people in the art world. "I think collecting art is definitely an educational process. Finding art that you hate is just as important as finding art that you love, and being able to express why you hate it or love it is an interesting way to explore what drives you as an art collector," Mo says of the advantages of finding and engaging with a community.