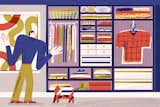 Dwell on This: How to Actually Organize Your Closet
Let's just say, there's room for improvement.
Experience
All you'll need is a bit of patience and willpower.
Time
Spend an afternoon getting your closet in order.
Maybe you've heard of the concept of induced demand. It's the reason why, despite the building of new roads, you still find yourself stuck in traffic every day. Simply stated, if you make something more available, more people will take advantage of it. Similarly, the advent of more closets in the average home hasn't eased our storage woes—in fact, it seems that we're collectively always short on space.
Join Dwell+ to Continue
Subscribe to Dwell+ to get everything you already love about Dwell, plus exclusive home tours, video features, how-to guides, access to the Dwell archive, and more. You can cancel at any time.