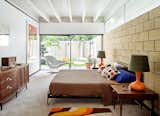 How to Work with the Dated Designs You Hate in Your Home
When life hands you wall-to-wall carpet or drop ceilings, make the best of it!
This story is part of Pretty Ugly, a package celebrating design that's so bad, it's good.
When it comes to real estate, there's always a "but."
"The apartment is on the third-floor of a pre-war brick building on a tree-lined street, three blocks away from my office, but it has wall-to-wall carpeting."
"It's a Craftsman bungalow with a big backyard, in our price range, but a previous owner decided the living room had to have popcorn walls."
"The basement would be the perfect den slash screening room slash playroom, but the drop ceilings make it feel so dark and gloomy."
So: are we supposed to cross otherwise-perfect apartments, condos, and homes off the list because of a design feature practically crying out for a makeover montage? Are we supposed to spend time and money we might not have doing said makeover? And what of rentals, where even the smallest alteration could mean saying goodbye to that hard-earned security deposit?
We got experts to weigh in on three of the most-dreaded interior design features, asking, when it comes to our living spaces: how can we change the things we can't accept, and how can we accept the things we can't change?
Cover your icky carpet with rugs, rugs, rugs!
Full disclosure: carpet of any sort, no matter how plush, no matter what color, gives this writer a feeling known as "the ick." Tearing up carpet, though, is a big investment—sometimes you'll find gorgeous, honey-colored hardwood floors, and sometimes you'll find… more carpet! And if you're in a rental, tearing up of any sort is usually frowned upon. Interior designer Hema Persad, who runs the L.A.-based Sagrada Studio, has a solution: "Rugs and more rugs," she says. "Usually (hopefully) carpet in rentals is pretty neutral, so you can easily place rugs on top of it.," This is an idea that has two things going for it: first, rugs are a great way to incorporate your own personal style—do you like something graphic, in a bold black and white print? Or maybe you're into something more abstract, with soft neutrals and pops of green for an earthy vibe. They can visually denote spaces, too, with one rug serving as the focal point of a sitting area and the other, beneath a table and chairs, forming the outline of a dining area. The other thing rugs do, Persad explains, is protect the carpet underneath, which in turn makes it more likely you'll be able to get your deposit back when your new next-door neighbor turns out to be an insomniac trumpet player.
If you've been in your apartment for a while, putting up with carpeting and hating it, says Keyanna Bowen, who hosts Rental Redo, a show about updating dated rental spaces on the Magnolia Network, it might be worth reaching out to your landlord to see if they'd be interested in replacing it with something a little less carpet-y. "Not only are wood or wood-look laminate floors more sanitary and easier to clean and maintain, they also have a longer durability and life expectancy than carpet, which could save your landlord money in the long run," she says.
Pick up a paintbrush and fix that drop ceiling
Drop ceilings evoke some truly memorable spaces: the DMV, perhaps, where you're failing your learner's permit for the third time (hypothetical!), or a sixth-grade classroom, where your teacher invites you to come up to the chalkboard in front of everyone and solve for 'x' (also hypothetical!). What drop ceilings don't scream is 'homey,' but that doesn't mean they can't be, with a little work on your end! Persad says that here, your best bet is to use color to trick the eye into seeing more height than actually exists.
"Paint is your best friend here," she explains. "I love painting walls and ceilings the same color because it causes the ceiling to recede and appear taller." In terms of colors, she says, "a moody paint can really transform both textured walls and drop ceilings." Think lush, deep greens, inky blues, and even, if you're feeling really adventurous, a rich burgundy, which would give even the plainest basement a kind of Old Hollywood movie palace vibe. A word of warning from Persad: "whatever you do, don't paint a drop ceiling a different color from the walls, because this really tends to emphasize how low it is."
Learn to love popcorn, sorry
Popcorn walls—also sometimes referred to as textured walls or acoustic walls—are a mid-century design element even the most devoted fans of '60s and '70s aesthetics can't get behind, and while some people (myself included) are secretly kind of into it, most people living in the year 2023 are not. But removing the coating, named for the way it resembles freshly-popped kernels of corn, is both time-consuming and also best left to a professional, since many of the sprays and treatments used to get the effect contain asbestos and other things you don't really want to mess with on your own.
If you can't convince yourself that popcorn walls are actually a little bit cool, says Bowen, "your best bet is to distract from it as much as possible by filling the room with things you absolutely love. When you walk into the space, your eyes will naturally gravitate towards the beautiful pieces and not the eyesore." Persad concurs, suggesting a gallery wall of art and photos you really love, or a hanging gallery of plants you look forward to caring for might, in time, make you not even see the offending wall texture.
There's also a philosophical element to finding something to love about the unlovable, says Persad: "take comfort in knowing that plenty of people are still dealing with these poor choices from years ago!"

Related Readimg:
The Midcentury-Modern Colored Tile Bathroom Is Back, Thank God
17 Projects that Use 17 Projects That Use "Ugly" Materials in Beautiful Ways
A Comprehensive Taxonomy of Unfairly Maligned Building Materials
Top photo by Matthew Williams