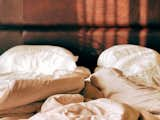 Everything You Need to Know About Linen, Your New Favorite Fabric
Also known as one of the world's oldest textiles, linen is taking the spotlight in home decor.
Over the course of the last year, I noticed a peculiar, yet welcoming trend: my TikTok algorithm started serving me TikToks of women fastidiously making their beds with sheets made of lush, richly colored linen. After a particularly brutal summer in New York found me slowly trying to replace all my cotton and poplin dresses with linen frocks, I assumed it was nothing more than an expertly-targeted ad, preying on my penchant for independent clothing labels crafting Renaissance-inspired clothing. While these self-appointed lifestyle experts didn't move me towards a life as a domestic goddess (too much work) I did start to covet the hefty, textured, and slightly rough bed sheets I saw on my feed, all made of linen.
This was not your grandma's linen, stiff and embroidered with dainty or folk-inspired patterns. It was contemporary, relaxed, and, unfortunately, aspirational. Seeing linen-decked interiors can make you think that your perfect life is just one bed sheet set away.
In 2022, the trend-forecasting agency WGSN reported that bast fibers as a category were poised to take over. The main reason lies in its sustainable nature. "Pure linen, being a biodegradable natural fiber, needs a fifth of the fertilizer required for cotton, less water to grow and draws carbon into the soil, making it a much-lower-impact crop," reads the report. "Linen, as the best known bast fiber, is already growing in popularity in the fashion industry due to its natural performance and eco-friendly associations." It's the rare fabric that sits at the intersection of sustainability and visual appeal—there's no wonder that its popularity is on the rise.
Not a trend: a mainstay
Though linen may seem trendy now, it's one of the oldest documented textiles, dating back to 30,000 BCE, where the material was spotted in archaeological findings in modern-day Georgia. Mesopotamian and Sumerian civilizations used linen for priestly garments, and the Ancient Egyptians wrapped their dead in linen sheets. In antiquity, it was used for everything, from garments to even books (see the Liber Linteus).
Linen remained a mainstay through history, with bouts of popularity starting in the mid-18th century. "From the 1750s onward, plain-woven cotton and linen check cases enjoyed a growing popularity in both America and England," reports Antiques & Fine Arts magazine. "They were used throughout the house, in bedchambers as well as parlors and dining rooms." While in the 19th century it was supplanted, popularity-wise, by cotton, by the end of the century, it had become a staple in summertime suiting, with men enjoying crisp linen suits in the warmer months.

Over the past 30 years, the end use for linen has changed dramatically. The fabric experienced a resurgence in the '90s; approximately 70 percent of linen production in that decade was for apparel textiles, a dramatic increase from the 1970s, when only 5 percent was devoted to clothing. In 2020, fashion search engine Lyst reported a significant increase in searches for linen starting in 2019: "Linen blazers, as well as linen shorts, are also popular amongst shoppers with searches going up 15% and 30% month-on-month respectively," reads their report.
Our living spaces are an extension of ourselves so it is not surprising that linen is now a popular material for decor—and anyone who spends any time online might notice that DTC brands are some of the most enthusiastic proponents of linen, from upholstery to table cloths, from apparel basics to, of course, bedding.
"All but one of our fabrics are 100 percent linen, 100 percent cotton, or a combination of the two," says Rob Natale, Chief of Design of the furniture company Sixpenny. "Mother Nature just does it best. All we try to do is highlight and play with the incredible work she's already done, and we hope that our commitment to that focus ultimately resonates with our customers"
Why linen's so good for everything
Linen's looser fabric structure allows moisture and particles to flow freely and it doesn't retain moisture, which means it creates an inhospitable environment for bacteria to grow. Then there's its lignin content. Lignin is the second most common organic compound found in nature after cellulose and serves many functions in the life of a plant: by supporting the cell wall, it protects cells from oxidative and UV damage, and acts as a natural defense against pests, pathogens, and other harmful bacteria. In addition, lignin is water repellent. Linen contains seven times the amount of lignin as cotton, making it an apt and long-term solution for home goods like bed sheets.

The porousness of linen allows air to move freely, and acts as a natural thermoregulator, keeping you warm, but not toasty, during the winter, and cool during the summer. When it comes to bedding, one can use their set year round, with the addition of a comforter or a top blanket. Texture-wise, linen has heft. "A linen quilt might be a good replacement for this year's popular weighted blankets, which are said to help with anxiety and increase levels of serotonin," reported Vogue in 2018. The porousness of linen also makes it a good choice for curtains. Not only does the fabric drape beautifully, but the looser weave lets light in.
For once, labels don't really matter
Don't be fooled by the indication that your linen of choice comes with the description "French Flax," "Belgian Flax" or "European Flax." When the word "flax" is appended to the nation of origin, it usually just means that that's where flax grew, not where it was processed and refined.( However, "Belgian Linen"—sans "Flax"—is geographically trademarked, so it can only be applied to linen that was also processed in Belgium.) More importantly, there's no actual consensus on what nation produces the best flax—every brand championing a particular nation or mill will claim the superiority of their choice. Some say Belgian linen is the best due to the craftsmanship associated with it, others claim that France has the ideal climate and temperature for the flax plant to grow at its peak.
Linen works everywhere!
Linen transcends trends, in large part because it looks and feels better as it wears, seamlessly integrating into any environment. It works in a Scandi-inspired minimalist environment just as well as in a texture-forward, neutral-heavy hygge-inspired room where different knits and textures abound. Those loving distressed textures, rustic decor, and Victorian elements will see linen fit in a shabby chic or cottagecore dwelling. In a medium weight, linen also has some markedly nautical elements, so it works in coastal-inspired decor. "I think there's a subconscious sense of nostalgia that is inherent to the material itself. It somehow elevates and comforts," says Natale.
Linen will even add a touch of softness in a room rich in cinder blocks, post-industrial metal and exposed beams. Whites and off-whites are, surely, the "safest" bet with linen, and they work in all the aforementioned environments. But if you want to get creative, grab a color wheel and feel free to see what color best compliments your wall, furniture, and upholstery. Linen takes color quite well—I recently dyed a formerly ecru linen dress mixing three-quarters' scarlet and one quarter pearl gray dye, at 50 percent the recommended concentration, expecting the result to be childish at best given my lack of skill and the quality of the product. Reader, it looks phenomenal.
Be bold with color
"Linen" as a color is usually defined by absence—whites, off-whites, and the aforementioned ecrus come to mind. However, linen works especially well with hues that are rich and warm-toned. In the past few years, marigold yellow/ochre/turmeric yellows have become a staple in bedding offerings. This throw by Parachute can add some warmth to any room decor, through both its warm, muted hue and its texture. Millennial pink's darker, and softened cousin, rosewood/rose clay, is a more contemporary, less saccharine alternative. This tablecloth in "Pink Clay" by Bed Threads, for example, is timeless without looking dowdy (plus, you could pair it with contrasting turmeric-colored place mats). The whole family of sage colors (which can read both as a cool-toned green or a warm medium blue) works well both in bedding and upholstery. The "Hello Aloe" shade by Sixpenny conjures a soothing, yet not starkly minimalistic environment, and a less predictable alternative to light blue.
Lead image: Susanne Alfredsson / EyeEm via Getty Images