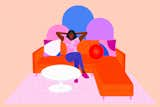 Dwell On This: Edit Your Throw Pillows
Unless you're building a pillow fort, you only need a couple.
Experience
All it takes is a critical eye.
Budget
If you decide to sell your excess pillows, you might even make some cash.
To riff on the wisdom of a notorious poet, mo' pillows, mo' problems. Of course, there's a subjective line between cozy and cluttered, but if your bed or sofa requires reshuffling every time you settle down, it's a clear sign that it's time to edit your throw pillows.
Join Dwell+ to Continue
Subscribe to Dwell+ to get everything you already love about Dwell, plus exclusive home tours, video features, how-to guides, access to the Dwell archive, and more. You can cancel at any time.