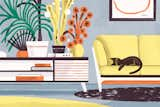 Dwell On This: Disguise the Eyesores Plaguing Your Home
Call it cable camouflage.
Experience
You don't need a lot of skill to block out unsightly details—just some creativity.
Budget
Use accessories and decor that you already own.
Time
Take a few hours to identify and obscure the messes you want to banish.
If you've ever lived in an older building, you've probably been saddled with a large, unsightly heater. I was once in a small flat with a hulking, grate-covered radiator that dominated the living room. It didn't help that it was prone to belching what I could only imagine was decades' worth of dust accumulated from previous occupants—a literal blast from the bast.
Join Dwell+ to Continue
Subscribe to Dwell+ to get everything you already love about Dwell, plus exclusive home tours, video features, how-to guides, access to the Dwell archive, and more. You can cancel at any time.