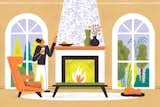 Dwell On This: Wallpaper Isn't Just for Walls
If the idea of committing to a full room of wallpaper seems daunting, try this on for size.
Experience
Anyone with a sense of adventure can try this.
Budget
You'll need some wallpaper, for starters.
Peel-and-stick varieties are welcome.
Time
You'll want to strategize about best placement.

The Dwell+ library of how-to guides has been unlocked for free for a limited time courtesy of Level, whose smart locks pair high design with an intuitive approach to home entry.
Learn More
Sometimes, we're just not ready for commitment. And that's okay—not everyone is prepared, or suited, for permanence. That's right, we're suggesting a fling with wallpaper. Using a small amount to cover unexpected parts of the home is a brilliant way to change the scenery without the obligation, cost, and hassle of a larger installation.
Applying wallpaper at full scale can be daunting—Is it the right color? What if you get sick of the pattern? And how much will it cost?—but those worries are significantly diminished when you start small. So instead of wringing your hands about how it'll look plastered across all four walls, buy a roll and use it to line the interior of a closet or pantry, the space underneath the stairs, inside dresser drawers, across stair risers, the back of a cabinet or bookshelf, or even a reading nook—surfaces that aren't obvious, but observable to the observant. If you're feeling particularly courageous, a patterned or trompe l'oeil–style wallpaper installed overhead across the ceiling can heighten the drama in a room.
Another argument for the commitment-phobe: Wallpaper today is arguably a better bang-for-your-buck option than painting your walls (especially if you're renting). Temporary, peel-and-stick wallpaper is now commonly available in a plethora of styles and colors, and is both easier to install and remove than either traditional wallpaper or interior paint. That means you can indulge your wilder desires before settling down with your home's final look.
More Dwell On This
Illustration by Mar Hernández