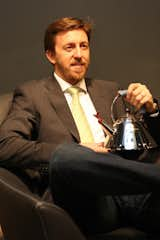 Talking with Matteo Alessi
The family-owned Italian design powerhouse Alessi held a party here in San Francisco to celebrate its local shop's tenth anniversary. We weren't able to attend the party, but we did stop in beforehand for a chat with Alessi's Trade Marketing and International Development Director Matteo Alessi. Our talk ranged from motorbikes to spoon rests with a charming detour on that hot button issue on the lips of every Italian: log cabins.
Do you make it so San Francisco often?This is my third time here in San Francisco. I really like it, but on this trip I don't have much free time. Last year, I rented a motorbike and had a nice ride up through Napa and Sonoma which was great! Congratulations on the 10th anniversary of the San Francisco store. It's actually the first store that we opened in the United States. It's the first store after the one in Milan. Though we opened a store in each of the main Scandinavian cities the same year as San Francisco. You must be all over the States by now, though. Oh yes. I was just at an Alessi store in Phoenix and now we have two in New York, and shops in Chicago, Washington DC, Los Angeles, and last spring we opened in Montreal. Anything new that you're particularly into?You know, we launch between 200 and 300 proudcts per year, and we may discontinue only 50. So there's always something new. One line that I like is called the Objet Bijoux. Here's a spoon rest that's very nice by Paulo Gerosa. The Objet Bijoux are available to a wide array of people because of the level of affordability. We also just launched a reedition of the little man cutout products. We reduced the size of the cutout. Having a different scale gives you many opportunities for new products in that family. I told the Dwell Twitter audience that I'd be talking with you and asked what they'd like to ask you. @MollyBlock wants to know what you'd like to design that Alessi has not yet attempted. I'd want to do a motorbike. I'm very much into motorbikes. But apart from that, which is more a joke than a reality, we have so many typologies of products that we make that it's hard to think of one that we've not yet attempted. Though you know, for the last six years I've been trying to convince my uncle that we should make a picnic set. We have already made all the objects that could go inside it, we'd just have to design the basket to put it in!Anything else?You know in Italy we just launched a touch pad tablet like an iPad. You're kidding. When will we see it in the States?Hopefully next fall. Though in a licensing product like this—Alessi is not an electronics manufacturer after all—sometimes your licensing partner has more control over when the product comes out than you do. Any new designers your planning to work with down the line?The good thing about our roster of designers is that we keep a very open relationship with them so that they can always come back and work for us again. But if there is one big name that is missing from our roster of designers it is Marcel Wanders. Fortunately we have a whole family of tableware and flatware designed by him coming out in our Spring/Summer 2011 line. At the same time, though, we are always looking for creativity in young, less established designers. Through workshops and things like that we want to see what young designers can bring to our collection. What's got you interested right now that is totally apart from the design world? A book, a film, a trip you took?My family, really. I have three kids under two and a half and they keep me very busy outside of work. Oh, and I just got a book that they would only ship here in America so I made a point of having it sent to a colleague I would see on this trip, about log homes. I'd love to have a log home, but it might look a bit out of place back home in Italy. Considering how many faux Tuscan villa homes there are here in the States, maybe it's only fair we get a log cabin or two in Italy. When you put it like that, maybe I'll try to get one.