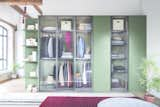 Savvy Storage
Novamobili, Italy-made Design Furniture for Living and Sleeping Areas available from Hubble, help us satisfy the latest fashion for tailor-made fitted furniture as it becomes the next big storage trend this SS19.
Providing the perfect framework for creating a tailor-made dressing room, Novamobili takes a new and unrestricted approach to utility space, offering practical and roomy walk-in closets that Hubble design with you in mind.
Be inspired at www.novamobili.it/en... and get the most out of your wardrobe this SS19.
Hubble Kitchens & Interiors │ w www.hubblekitchens.co.uk │ e info@hubblekitchens.co.uk
Chichester +44 (0)1243 533727 │ Unit 4, Ben Turner Industrial Estate, W Sussex PO19 7ET
Guildford +44 (0)1483 906670 │ 11 Angel Gate, Guildford, Surrey GU1 4AE
Instagram @hubblekitchensinteriors │ Pinterest Hubble Kitchens │ Houzz Hubble Kitchens