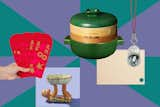 5 Things to Buy to Celebrate the Lunar New Year
It's the year of the rabbit! Wear red!
The Lunar New Year is imminent, and if you're not prepared for what's to come, now's a good time to get there. 2023 is the Year of the Rabbit, and if you happen to be born under this zodiac sign, some advice, courtesy of a very good source (my mother): Wear red underwear and be careful, because bad luck lurks around every corner.
Though that theory has yet to be tested, it's sound advice! But there are other ways to celebrate the New Year—open your wallet (and your heart) to these picks, all from AAPI-owned businesses.
It's tradition to give money in red envelopes at the start of the New Year for good luck. These hong bao from Yun Hai are inspired by Chinese paper cutting and made in Taiwan.
Listen, there's no right or wrong time to eat dumplings, but doing so during the New Year feels particularly festive. Use this steamer from Fly By Jing for your XLB and dress up the dipping sauce with Sichuan Gold, a new chili oil that's spicy as hell, but in a good way.
If you buy Material Kitchen's Reboard cutting board in the color "To Po Po With Love" (a pleasing, almond-y neutral), 50 percent of the profits will go to Hearts of Dinner, a non-profit organization working to combat food insecurity and loneliness in New York City's elderly Asian American community.
Gather your good-luck oranges in this vessel, which will be the strangest and also the most endearing centerpiece to grace your table.
Long gone are the days of Motorola RAZRs weighed down by the heft of jingling cell-phone charms, but this Sandy Liang item, from her Lunar New Year capsule collection, is a cheeky little bit of nostalgia.
We love the products we feature and hope you do, too. If you buy something through a link on the site, we may earn an affiliate commission.
Get the Shop Newsletter
Smart shopping for the design obsessed. Find what you love in our expertly curated selection of finely crafted home, office, travel, and lifestyle products.