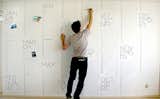 Wall Calendar to Keep Track of the Big Picture
Although it may be difficult to fit it in your pocket, and it certainly lacks the convenience of an iPhone or Blackberry, this calendar wallpaper leaves space to see the year at a glance and to keep track of the bigger picture.
Christiaan Postma is a Dutch designer blurring the lines between design, time and functional objects.  Among his projects: an exploding clock and this calendar wallpaper.  And when a year gets expanded to the size of your living room wall it certainly puts time at the forefront; not only as a reminder of how quickly days are passing, but also a nice way of remembering how you've spent your time so far.  In this calendar, the future is as important as the past.

Image via christiaanpostma.nl
Get the Dwell Newsletter
Be the first to see our latest home tours, design news, and more.