Built in 1875, the house had the typical compartmentalized layout favored at the time—large, formal reception rooms to the front and subsidiary rooms to the rear, including a small, dark kitchen. It may have had curb appeal, but inside it was gloomy, rundown, and in desperate need of attention. Architect Gregory Phillips, a family friend, was retained by the Brenners to make their 19th-century house work with their 21st-century lifestyle. His clients' program was simple: "I only asked for a place to escape from the kids!" claims Judith.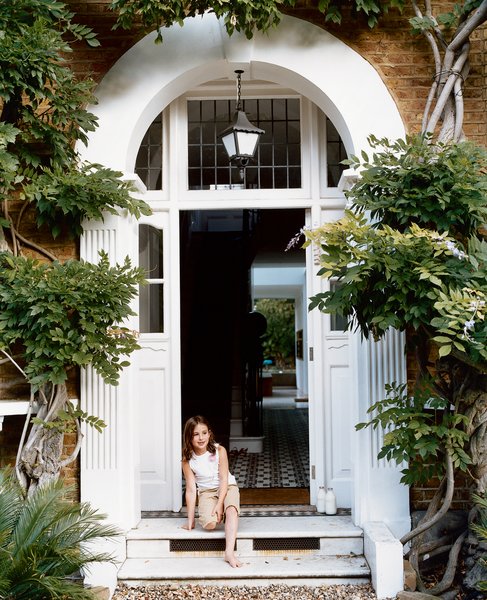 The new space was conceived as a blank canvas so that the decidedly nontraditional English garden—a large lawn bordered by exotic palms, bamboos, ferns, and other flamboyant foliage inspired by a recent holiday to Australia—could be the focal point. The minimalist dining table, benches, and stools are by e15.

To avoid formality, Phillips created a different environment for each room. The kitchen, for example, is understated by virtue of its simple cabinetry by Boffi, and its white walls that flow with the rest of the house. "What we love about living here," says Judith, "is that it works well with our young family. There is plenty of daylight, all the latest technology, and we don't have to worry about sticky fingers destroying anything."

New residential buildings are few and far between in England, so architects like Phillips have increasingly been charged with creating groundbreaking modern environments within the shells of historic houses. "People just find it easier to work within existing houses to transform them to be sleek, stylish and functional," says Phillips. "Extensions have almost become a requirement for any homeowner who wants to be a part of modern living within the U.K."