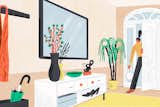 Dwell On This: Upgrade Your Entryway
Step into a comfortable, clutter-free zone as soon as you enter the front door.
Experience
Anyone can tap into the spirit of tidying up.
Budget
Invest in some organizational pieces.
Or get strategic about stuff you already own.
Time
Change up the vibe in a flash.
If one imagines the living room as the main course of a home, the entryway should be considered an amuse-bouche—a small taste of what's to come. But too often, foyers and entryways are treated as an afterthought, becoming cluttered, transitory spaces. It's time to create a memorable first impression and rethink the entrance as a true welcome home.

Join Dwell+ to Continue
Subscribe to Dwell+ to get everything you already love about Dwell, plus exclusive home tours, video features, how-to guides, access to the Dwell archive, and more. You can cancel at any time.