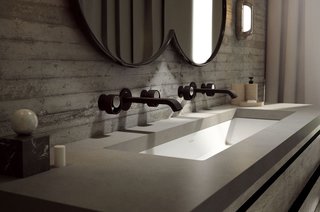 Trend Report: 10 High-Tech, High-Design Bathroom Products for the New Decade
The '20s are shaping up to be a stylish and experimental decade, at least in the bathroom.
Last month we shared our thoughts on six top-notch kitchen products seen at KBIS 2020. This month, we turn our attention to an array of products designed to launch your clients' bathrooms into the new decade—from shower heads and porcelain thrones to high-tech ventilation and medicine cabinets.

Defined by architectural lines and geometry, this Jean-Marie Massaud–designed luxury faucet series plays with the symmetry of cubes by arranging them in an asymmetrical composition. Diamond-cutting the components—including special blocks textured with micro pyramids—ensures precision in every plane, edge, and chamfer. The faucets are available in multiple configurations and four finishes: polished red gold, polished bronze, polished gold optic, and polished black chrome.

Perfect for the germophobe—and really anyone who cares about cleanliness—this vent fan incorporates Vital Vio's antibacterial LED technology. The LEDs are deadly to bacteria, mold, and fungi but safe for humans, pets, and plants. Meanwhile, the ventilation is at once both quiet and powerful, moving air at about 110 cubic feet per minute.

This contemporary bath series features a streamlined, squared design paired with a unique bent linear handle. The collection includes widespread, center-set, and single-handle faucets, Roman tub and diverter valve trim kits, tub-and-shower or shower-only trim kits. All are available in brushed nickel, chrome, or satin-black finish.

Bidets are somewhat still a foreign concept to Americans, but they're gaining some momentum. There are the kinds that stand separately from the toilet and there are bidet seats one can install on an ordinary toilet. But this latest Philippe Starck–designed all-in-one toilet and bidet does one of the best jobs in combining the functions of both into a single sleek unit. A remote control allows the user to select spray settings, temperature, and intensity, as well as other bells and whistles such as a night light and seat temperature.

Making it easier to create cohesive designs, the faucet and fitting manufacturer has launched its own ceramic bath products that effortlessly coordinate with two popular faucet lines—Eurocube and Essence. The wares include toilets in different mounting configurations as well as sink basins that come in under-mount, wall-hung, and above counter versions. The toilets boast InfinaBright, which inhibits stain, bacteria, odor, and mold growth.

Rain shower heads are a dime a dozen today, but the Rainfinity collection kicks things up a notch, transforming the shower into a spa experience. Available as both a hand shower and large wall- or ceiling-mounted overhead shower, it offers a range of spray modes to suit every user—from a micro-fine PowderRain to a cascading RainFlow concentrated on shoulders and back. The shower heads are available with spray faces in matte white, graphite, brushed nickel, or chrome.

The company known for its attractive linear drains and range of drain-cover designs also offers a new slot model that practically disappears into shower bases and surroundings. It features a narrow 3/8-inch drainage gap, a clean-out tray, and a variety of trim finishes from matte black and satin bronze to stainless steel.

The trend of transforming baths into a spa-like environment isn't slowing down, and now Moen is getting in on this action. Partnering with shower-design startup Nebia, Moen has launched a new shower head that atomizes water into tiny droplets. While it feels like copious amounts of water, the spray actually uses 45-percent less. Best of all, it works with existing plumbing so one only need to change out the shower head and arm.

The Kohler brand produces an array of aesthetically pleasing bath storage units and mirrors, but it doesn't rest on its laurels. Robern has expanded its Vitality lighted mirror collection with a medicine cabinet model made from rust-free anodized aluminum and glass. The mirror front implements 3,000K dimmable lighting; inside users can adjust shelves as needed and plug hairdryers and such into an integrated electrical outlet.

These elegant and slim-profile faucets are handsome enough, but they have a small surprise detail in store: The handles are rings encircling a round nob, and these are sometimes aligned and sometimes not, depending on usage at any moment. The shifting arc between the two forms takes inspiration from celestial eclipses—hence the name. Finishes, which can be matched or mixed, include polished chrome, satin nickel, satin gold, and matte black.

Brooklyn-based design journalist Sheila Kim reports on architecture, interiors, and decor, as well as design-centric products that run the gamut from table lamps and home accessories to commercial flooring and acoustic ceilings. Her work has appeared in The Washington Post, Architectural Record, and numerous other publications.
Get the Dwell Newsletter
Be the first to see our latest home tours, design news, and more.