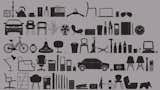 Tonight: Objectified in America
I finally saw Gary Hustwit's very fine film Objectified this week and could not be more excited to moderate the latest Dwell Conversation, Objectified in America: Design, Consumerism and Sustainability in Our Changing Economy tonight at Autodesk Gallery in San Francisco.
We'll be discussing the nature of objects, how we relate to them, and how they shape the world around us. My four panelists will be Hustwit; Bill Moggridge, founder of IDEO, and one of the designers in the film; Tom Dair, founder of Smart Design; and Philip Wood, founder of CITIZEN:Citizen.
Wood and I had dinner after the movie with some other Bay Area design-types like Peter Stathis of Virtual Studio, Ethan Imboden of Jimmy Jane, Brian Scott of Boon Design and part-time Dwell expert Richard Hansen over cold soba noodles and sake. If a conversation half as engaging and wide-ranging as that one comes out on Friday I'll have done my job.

We're expecting a full house, so if you've not bought your ticket yet there are still a few remaining here for $15. The doors open at 6:30pm and we expect to be underway by 7pm at AutoDesk Gallery at 1 Market St., Suite 200 in San Francisco. I hope to see you there.
 
Get the Dwell Newsletter
Be the first to see our latest home tours, design news, and more.