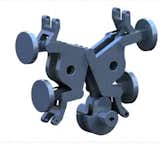 The Brickley Engine
Moving parts mean friction; friction means a drag on engine efficiency. Five years ago independent Austin, Texas, inventor Mike Brickley took this on as a challenge. He created and patented a car engine that gets a 15% to 20% increase in fuel efficiency and a 15% to 20% decrease in CO2 emissions, and he was recently was featured in the New York Times in the 2008 Year of Ideas issue as a result.
How does it work? He did away with piston skirts here and bearings there, a configuration that produces 35% less friction than a regular engine. It will work in trains, tractors, trucks, automobiles, and other fuel-burning vehicles, with diesel and spark ignition engines of four or more cylinders. 

Brickley hopes Detroit can embrace this technology in the future. In the meantime, check out his website. Or write a letter to GM.
Get the Dwell Newsletter
Be the first to see our latest home tours, design news, and more.