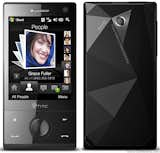 Swiss Design Talk in SF
I'll be at Swissnex San Francsicso today, February 10th, to lead a panel discussion of Swiss design to help kick off an exhibition of the winners of the 2009 Swiss Design Awards. I had a great time in Los Angeles last month moderating a similar talk, and this one promises to be as good. In addition to Swiss Design Award director Heidi Wegener I'll be joined by Lukas Scherer of Shibuleru, Claude Zellweger a partner at One and Co, and Wilhelm Oehl of Eight Inc.
Not only will we be talking about the Swiss Design Awards, and what they mean to those that win them (Zellweger took a 2009 prize for a cell phone he designed for HTC), but we'll talk about Swiss design as a brand, how Swiss designers are perceived in the market, and what it even means to be a Swiss designer when you live in San Francisco designing objects to be made in China.
The event is free though you'll need to RSVP. Hope to see you all there.
Get the Dwell Newsletter
Be the first to see our latest home tours, design news, and more.