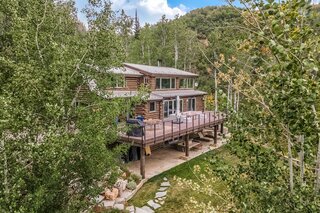 An Updated Log Cabin–Style Home in Colorado Seeks $2.4M
Just a couple miles from the Steamboat Springs Resort, this mountain retreat nestles within an aspen grove.
Conveniently located four miles from downtown Steamboat Springs, Colorado, this newly remodeled home is in a prime location for skiing while offering lush forest views and upscale living year round. Built with reclaimed materials, the property echoes the aspen trees just outside while enjoying privacy and seclusion on its site within an expansive grove.
With a design that nods to the quintessential log cabin, the 2,717-square-foot residence borrows its interior scheme from the natural colors of the gray aspens. Elegant steel finishes elevate the kitchen, bath, and living areas, which also complement the pale wood exterior and interior.

While cooler wood undertones make up the majority of the home, the contrasting floors feature radiant floor heating that visually and literally warm up the interior.
For any mountain escape, outdoor views are a must. Large picture windows invite in natural light and feature the natural surroundings.
In winter, the property is an ideal home base for snow activities by being just a few miles from the local Steamboat Ski Resort. After a long day on the slopes, residents will be able to wind down in the spa or hot tub, or warm up by the gas fireplace and fire pit. And during the summer, the property features a large, wraparound deck to take in the fresh mountain air.
With three bedrooms, three full baths, and partial bathrooms, this refined home offers a taste of log-cabin living with refined amenities.
Get the Real Estate Newsletter
From midcentury classics to the best contemporary spaces for sale, see the latest listings for modern homes on the market around the world.