Airbnb Cancels the Great Wall of China Contest
The Beijing Yanqing Cultural Commission puts a halt to Airbnb's plans to host guests in an ancient watchtower on the Great Wall of China.
For their latest Night At campaign, Airbnb planned to offer a few lucky guests an once-in-a-lifetime opportunity to stay at one of the Seven Wonders of the World.

The hospitality company teamed up with the Beijing Tourism Development Committee to sensitively alter a centuries-old watchtower into lavish accommodations with a four-poster bed and plenty of cozy textiles to soften the brick-and-stone surroundings. According to South China Morning Post, however, the Beijing Yanqing Cultural Commission opposed the initiative, as it "is not in line with the Great Wall's heritage conservation values."
Newsletter
Join the Travel Mailing List
Get carefully curated content filled with inspiring homes from around the world, innovative new products, and the best in modern design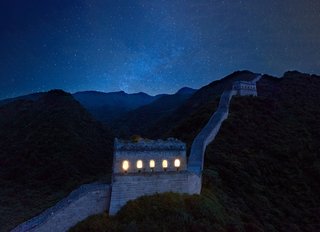 In response, Airbnb has cancelled the contest, stating that "while there was an agreement in place that was the basis for the announcement of this event, we deeply respect the feedback we have received."
The original contest asked interested guests to submit answers to a prompt asking "Why is it more important now than ever to break down barriers between cultures?" and "How would you want to build new connections?"

These questions are in part inspired by the history of the Great Wall, which was mostly constructed in the 14th through 17th centuries to protect the northern borders of China from raids and invasions.
"Historically, the Great Wall was built to be a border," read the original Airbnb listing. "And today, it opens arms to welcome all."
Four winners selected on the basis of their response would have been invited to spend a night on the Great Wall along with their chosen guests. The one-night stay included round-trip airfare, visas, a gourmet dinner, and carefully curated experiences such as a Chinese calligraphy lesson.
After the one-night stay in September, the bedroom would have been dismantled, and the watchtower returned to its original condition.
"It's been an honor to work with historians and preservationists groups in Beijing to bring this once-in-a-lifetime experience to the world," said Nathan Blecharczyk, co-founder and chairman of Airbnb China, before the contest was cancelled. "We are so proud to partner in this truly collective effort to highlight such an incredible landmark that now serves to unify people rather than divide them."