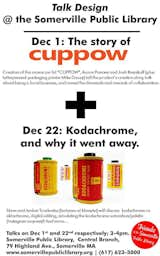 Somerville Library Design Lectures
A night out at the local library, especially for a Friends of the Library talk, never sounded so good as when James Fox took over in Somerville, Massachusetts. Fox, now head of Friends of the Somerville Public Library has initiated a kind of designer-maker lecture series called "Talk Design" that's attracting, as he puts it, "a non-traditional audience" to come, hang out, and connect with designers, graphic designers, illustrators, and the rest of Somerville's artsy crowd. What's more, each lecture has a local food sponsor, giving the whole affair something of a party feel. We talked to Fox about getting the design crowd into the public library, and what's next for his Talk Design series.
How did the Somerville Design Talks get started? What was the kernel that made you think that a lecture series was what you needed?
 
Somerville, Massachusetts, has more artists per capita than almost any other city and though I knew many in this community were probably sympathetic to libraries, perhaps they had not visited or supported the library recently. I wanted to draw those people in with programming that would be meaningful to them as creatives and small business people.

You don't seem to be running a standard lecture series at a library. Is this more of a talk or a party?

I'll take that as a huge compliment. We are trying to make each talk an event; with individual promotion and a social hour component afterward that changes depending on the audience.

For the "beard and seed hat graphics" crew who attended Aaron Draplin's summer talk we organized space and drinks at Five Horses Tavern in nearby Davis Square. For the recent talk featuring fashion illustrator Christine Mitchell we created a quieter "afternoon tea" vibe sponsored by Kickass Cupcakes. The bottom line is that we are providing some academic discussion but also trying to have fun and make the Friends of the Somerville Public Library an attractive group to join. Admission to all speaking events is free of charge.

The Friends group needs energetic volunteers to survive, and some of the attendees of these events have since transitioned to become valued volunteers. Our goals for the Friends include fundraising to support programming and initiatives developed by the library director, Maria Carpenter; and to support the mission of the library: literacy in all forms—social, technical, and academic. All that takes boots on the ground and hands on the keyboards.

The speakers seem to have this homespun or crafty bent to their work. How are you imagining design in this series? Is doesn't necessarily feel like Capital D Design with the requisite degrees from Harvard attached.

I will say that our speakers often radiate a bootstrapping glow. You may be right, with the exception of Draplin this is not a "Capital D Design" series.


Design Talk #2: Christine Mitchell of N'East Style from Rough Water Films on Vimeo.
How do you decide who to include as speakers? Is it really just proximity to Somerville?

Flat out, these are all people I'd like to hear speak about their chosen topics. I'm a big believer in celebrating local talent but also wait for visitors to swing through New England and then pounce on them.

Are you attracting a younger crowd to these talks? Who is showing up?

The events calendar at the Somerville Public Library is generally stacked, and all ages turn up depending on the event. Our goal for this series was reaching a certain non-traditional audience, and I think that is being met. Often the attendees are as accomplished as the speakers and so the chance for everyone to interact and skill-share afterward is huge.

You've got two more lined up for the rest of 2012, but what will 2013 look like?

Yup, to end the year we are cramming in Fringe the collective from Somerville's Union Square neighborhood who invented CUPPOW, and then A Celebration of Kodachrome with MassArt lecturers and Somerville residents Stephen and Amber Toulentes.

In 2013 we're really looking forward to hosting Rohan Anderson of the grow/gather/hunt/cook blog and book, Whole Larder Love. We have a couple more on the back burner and would always love to see a Get It Loud in Libraries type music night… we'll see.

Are you going to go after architects and industrial designers, or are you more committed to small products, graphics, and the like?

Architecture wasn't my original focus, honestly, but simply because I am not schooled in that area—if a 'Villen wants to assist setting up the right speaker then hell yes. Plus, if anyone has Matthew Carter's email in neighboring Cambridge please send him this interview.
Get the Dwell Newsletter
Be the first to see our latest home tours, design news, and more.