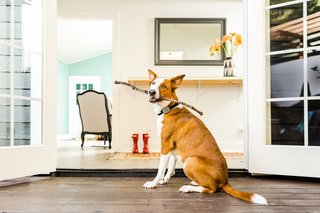 Tech Talk: 4 Smart Devices to Make Pet Care a Breeze
Connect your pets to the Internet to help you monitor, feed, and care for them when you can't be there.
Smart home devices let you check in on your home when you're not there, giving you peace of mind that everything is okay. But did you know they can help you look after your pets?
With two-way talk video cameras, GPS-enabled tracking devices, and Internet-connected feeding bowls, make sure your pet is happy, healthy, and at home—even when you aren't.
Watch our video to see these devices in action, and read on to learn more about each product's features.
1. Watch Your Pet With a WiFi Camera
Drop in and chat to Fido or Fluffy while you're away from home with a two-way, audio-enabled WiFi camera. A web connection lets you see and talk to your pet through your smartphone over a live video feed of the action in your home. You can also record video and share it later on his Instagram page.
There are a lot of WiFi cameras that can do this, but we like the Nest Cam IQ (indoor) because its wide-angle, high-definition video, and night vision, which show more of your home and let you see it clearly any time of day. Plus, the Nest's two-way audio is very good, so it's easier to have a chat with your furry friend.
To see what's going on outside, Ring's battery-powered Spotlight camera is good option. No power cables mean you can install it anywhere your pet likes to roam (within WiFi range). Set up motion alerts in the Ring App, and get an notification when they go outside. You can then view a live feed through the Ring app and talk to them too.
A built-in, motion-activated LED spotlight is a great feature, especially for those middle-of-the-night potty trips. 
For more interaction with your pet, the Petcube Bites camera will fling treats for you, either on a schedule or whenever you fancy through an Angry Birds-style app interface. It makes a noise when the treat is about to dispense, which the dog or cat quickly comes to learn, making them come running, so you can be sure they'll be in view of the camera.

Press the treat icon in the app and fling the treat higher and father depending on how hard you press. You can also use voice commands through Alexa to treat your pet hands-free. Plus, an Amazon Dash Replenishment service will automatically reorder treats for you when they're low.
2. Keep Tabs on Your Pup With a Pet Tracker 
Every pet parent's worst nightmare is losing track of their companion. Attach a GPS tracker to their collar, and you have a much better chance of finding them if they do disappear.
The Whistle 3 pet tracker can do this, plus it sends an alert to your phone if your pet moves outside of his or her safe zone so you know as soon as they're on the lamb and can track them in real time.
Whistle also doubles as an activity tracker, showing you how many calories they've burned, distance they've run, and hours they've slept through its smartphone app.
Shop Smart Home Products for Pet Owners



3. Dish Up Dinner From Anywhere With a Smart Feeder

Feeding time is a source of much stress in many pet households ("Did I feed the dog? Did you feed the dog? Dog, have you been fed?!"). With a connected pet feeder like the PetSafe Smart Feed Automatic Pet Feeder, you can make sure your critter is served on time every day, and eats the right amount.
Set a schedule in the app and choose the portion you want delivered, then get a notification when your pet has been fed. No more dashing home just to fill your pup's bowl. Want to give your pet a snack? Use the app to drop some extra food into the bowl from wherever you are.
4. Let The Dog Sitter In With a Smart Door Lock
Replacing your door lock with an Internet-connected lock gives you an extra layer of control over access to your home—handy when you have people coming to look after your pet.
The Nest Yale X door lock is a good option if you have a regular pet sitter because it uses pin codes. They don't need to have an app on their phone to get in your house, just give them their own code.
An Internet connection means you'll be notified on your phone when they use their code, so you know your pet has been cared for. You can also lock and unlock the door remotely, in case you need to let someone in in an emergency.
The Yale X also works with Google Assistant voice control, so you can lock your door with your voice when you and your pup are safely snuggled up on the couch at night.
Shop Smart Home Products for Pet Owners
Get the Dwell Newsletter
Be the first to see our latest home tours, design news, and more.