Smaller in Texas
Recommended by
Texas architect Jim Poteet helped Stacey Hill, who lives in a San Antonio artists' community, wrangle an empty steel shipping container into a playhouse, a garden retreat and a guesthouse for visiting artists. The container measures a narrow and long 8 by 40 feet; Hill asked that a portion of the square footage be retained as a garden shed and the rest serve as the living space. The architect added floor-to-ceiling glass doors and windows, heating and air-conditioning, a green roof, bamboo flooring and wallcovering, a small sink and shower and a composting toilet, and placed the structure on a base made from recycled telephone poles. "The container, as we call it, is a great escape for me because the space is pure, uncluttered, wonderfully sunlit, quiet and has a great view of my garden," says Hill. "My two young daughters love it because it's practically an empty box ready to play, create and pretend in."
Check out the slideshow to see more images of the project.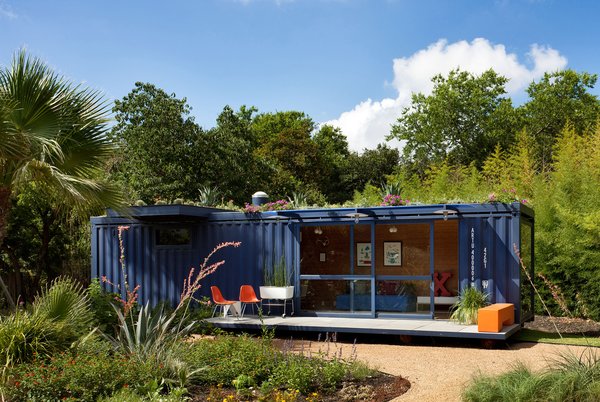 Erika Heet
@erikaheet
Erika Heet has been working in publishing for more than 20 years, including years spent as a senior editor at Architectural Digest and Robb Report. She has written for Architectural Digest, Robb Report, Interiors, Bon Appétit, Sierra Magazine, and The Berkeley Fiction Review. She recently wrote the foreword to New Tropical Classics: Hawaiian Homes by Shay Zak. She lives in a Topanga cabin with her artist husband and two children.
Comments
Everybody loves feedback. Be the first to add a comment.
The author will be notified whenever new comments are added.