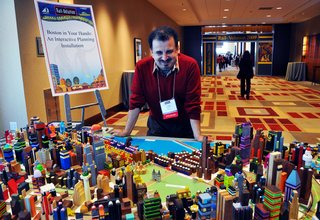 Rail-Volution 2009: Building with Transit
As a nod to the home of the nation's first subway, Rail-Volution rolled into Boston this past weekend. Planners, designers, engineers, and scholars eagerly feasted on the many workshops and panels that strived to answer the burning question: How can we build livable communities through transportation?
As my first foray into a planning conference, Rail-Volution shed light on a different urban perspective than what my designer-educated-marbles were used to. Here, the future of transportation was not a beautifully rendered model of a driverless car, but rather a series of necessary policies and community goals to push forward new transit developments. While talk of high-speed rail was surely the darling of the conference, other notable weekend highlights included:
Boston In Your Hands
Conference-goers were welcomed at the entrance with a vibrant interactive map of Boston, built by artist-planner James Rojas. Inviting people to pluck up bottle-top housing blocks and rearrange popsicle sticks and discarded metal, Rojas's installation views urban planning in a collaborative way that is constantly changing. (He does many other cities, too.)
Streetsblog and Streetfilms
Aaron Naparstek, editor-in-chief of Streetsblog, presented how online advocacy journalism has been successful in spurring urban changes from New York City to San Francisco to Portland. A part of the Streetsblog Network, Streetfilms' Clarence Eckerson showcased a special movie screening of their best on Halloween night -- including snapshots of their lovable livable streets mascot, Zozo.
How to Size Your Parking
I attended a talk titled 'The Right Size Parking for Your TOD' (TOD is Transit Oriented Development), where I learned that for each parking space required in a residential unit, the price of the unit increases 15-30%, and the number of units decreases about 25%. That is why 'unbundling' happens - which is when parking spaces are leased separately from the residence to reduce housing and commercial space cost. Parking and how we can do it innovatively is also currently a hot topic here at Dwell...
Regional Rapid Transit book, at Steven Schuyler Bookseller
I flipped through this beautiful old publication from 1953 that delineates the evolution of Bay Area's transit system through a series of handsome maps by Parsons Brinckerhoff. Regional Rapid Transit is one of many planning and building trade books at Steven Schuyler's rare bookstore - located up in North Reading, Massachusetts (which I have yet to visit, but will mosey on up there in the near future).
Get the Dwell Newsletter
Be the first to see our latest home tours, design news, and more.