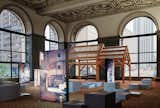 8 Books You Need to Read on the Intersection of Race and Architecture in America
Now more than ever, it's important to understand the history of racism endemic to our built environment. Only then can we reject it and build a better future.
Architecture is supposed to be for everyone. So then why are only 2% of licensed architects in the U.S. African American? Why is Black home ownership at 44%, the lowest in the nation? Why are our neighborhoods still so segregated? To gain a better understanding of the ways in which racist policies and practices have strategically diminished quality of life and employment opportunities for Black people, we've compiled a list of necessary readings.
Editor's note: These suggestions are just a jumping off point. For a more extensive reading list, the New York Public Library has posted the Schomburg Center's Black Liberation Reading List here.
Get the Shop Newsletter
Smart shopping for the design obsessed. Find what you love in our expertly curated selection of finely crafted home, office, travel, and lifestyle products.