Preview the Key Design Topics of Dwell on Design Los Angeles 2015
Our flagship event celebrates ten years with a focus on universal design, resiliency, energy, and technology.
​Dwell on Design has grown exponentially from its humble beginnings in San Francisco in 2005. One decade and several cities and venues later, the largest design show in the United States, drawing more than 31,000 visitors annually, takes over the South Hall of the Los Angeles Convention Center. During the weekend of May 29–31, 2015, on a show floor encompassing 240,000 square feet, Dwell will host architecture, design, landscape, and building industry leaders for three days of discussions centering on four key concepts influencing the way we live in the modern world. 
Newsletter
Join the Daily Dose Mailing List
Get carefully curated content filled with inspiring homes from around the world, innovative new products, and the best in modern design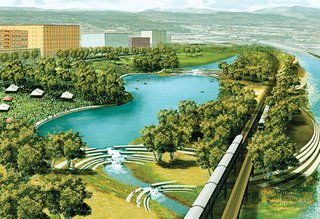 Good design, quite simply, is for everyone. We'll explore this notion onstage with architect Barbara Bestor; joining her will be John Dutton, the author of New American Urbanism: Re-forming the Suburban Metropolis. The pair are pursuing a future of senior housing that is "much hipper, creative, connected, and modern, both a shared place of social gathering and unabashedly part of larger neighborhoods and an urban infrastructure," explains Dutton, who will also discuss his concept for "regreening" L.A. freeways. "It's a hypothetical prototype for rethinking how we can build in our future cities."
Smart Tech
Technology is integral to our daily lives, but is it accessible for all? We'll tackle this question and consider the most recent innovations in connected home systems, the shifting design process in the digital age, the future of mobility, and 3-D printing. Architect Alvin Huang will be on hand to contemplate how the latter is shaping the way we approach architecture, building, and design. "3-D printing is having a profound effect on the design industry," says Huang, who designed the half-scale prototype Durotaxis chair, printed using a Stratasys machine. "At the moment, the focus is on rapid prototyping, but the shift toward rapid manufacturing is imminent. It has the potential to revolutionize our industry."
Resiliency
Architects and designers have the power to influence positive change through unfavorable, even extremely difficult, circumstances. At the show, we'll share stories of people affected by disaster, and highlight successful design strategies that are improving lives. We've also challenged top architecture and design schools to confront issues of resiliency in Los Angeles—including drought—through their work that will be exhibited on the show floor.
Energy 360
There is no better time to examine our natural resources and renewable energies. Architects and city planners will weigh in on solar, wind, and water at the show, including landscape architect Mia Lehrer, who conceptualized the Los Angeles River Revitalization Plan. "Recalibrating urban riparian corridors such as the Los Angeles River provides an opportunity to reconnect our built and natural systems together in a way that rebuilds our urban areas into livable places," Lehrer says. 
Dwell on Design Los Angeles will be held at the Los Angeles Convention Center from May 29-31, 2015. Head to dwellondesign.com to purchase passes now.