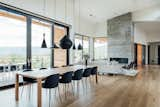 30 Statement Pendant Lights That Can Instantly Upgrade the Room
From sleek and minimalist to scene-stealing and sculptural, these pendant lights bring polish to your home.
Looking for a statement piece that truly sets the tone? Whether you need something to introduce an unexpected dash of color, a sculptural piece to draw the eye upward, or a sleek fixture that brings balance to the room, shop our selection of brilliant pendant lights below.
Get the Shop Newsletter
Smart shopping for the design obsessed. Find what you love in our expertly curated selection of finely crafted home, office, travel, and lifestyle products.