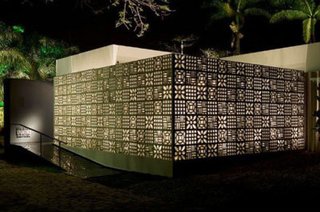 Patchwork Pavilion
The Patchwork Pavilion in Brazil calls to mind a flurry of snowflakes, a giant scale votive, or those kitschy concrete walls in Southern California. Though the final result is decidedly elegant, the building has its roots in humble pie.


DOMO Arquitetos Associados needed to build a temporary structure to house a gallery during an arts fair in Brazil earlier this year, and they needed to do it cheaply and quickly. Using pre-cast concrete blocks—ubiquitous in Brazil—the architects created a temporal structure that was half opaque and half translucent, rich in texture and sophistication, but done affordably and on schedule.

Images via Architecture Daily.
Get the Dwell Newsletter
Be the first to see our latest home tours, design news, and more.