New York Architect John Berg Invites Us Into His Indoor/Outdoor Hamptons Home
After spending six summers living in a yurt in East Hampton, Berg fell in love with the area. Upon finding the perfect plot of his own, he designed a comfortable, private home for his young family.
Corcoran finds the home to match your heart. The right home is a reflection of who you are, and allows you to live your best life. This story is one of three interviews with designers and architects whose homes reflect the notion, "Live Who You Are." Follow along for more stories, presented in partnership with Corcoran.
John Berg's Hamptons home is in Springs, a town that hugs Accabonac Harbor. The house sits far back from the road, tucked privately behind the trees. Here, Berg is most often on the patio, enjoying a home-grown meal with his wife—and maybe some friends—while watching his boys play in the pool. "It's very comfortable," says Berg. "It's one of the most relaxing, peaceful places." Berg bought the property and built the house in 2007. He designed it with his wife, who was his girlfriend at the time, as a quiet haven from the city. Over 10 years and two children later, the home is still a relaxing safe haven and a peaceful antidote to the busy streets of Manhattan.
Newsletter
Join the Daily Dose Newsletter
Get carefully curated content filled with inspiring homes from around the world, innovative new products, and the best in modern design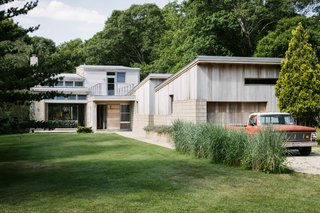 In 2001, a friend invited Berg to stay in a yurt on his East Hampton property for the summer. Berg described what ultimately became six summers in the yurt as communal living. An old 1800s barn sat on the property. It housed a kitchen and acted as a shared space for all the friends living there. "We did all our entertaining on this piece of property and very rarely left," says Berg. He fell in love with the area and decided to build a house for himself.

"I felt like it was a bit of a diamond in the rough," Berg says of his 1.1 acre plot in Springs. He and his wife to be set out building their home with two key principles in mind: "One was that the kitchen be the center of the entire house. That our lives would revolve around the kitchen," says Berg, noting that he built a gate from the kitchen leading directly to a vegetable garden in the yard. "My wife is an incredible cook."

The second guiding principle for the Bergs was that "the house itself would really be a spine of indoor and outdoor rooms and have a tremendous amount of transparency from front to back." Here, Berg recollects the old barn he shared during his yurt days. "It had these two huge barn doors and a central aisle, and you could really open up the whole thing and there was this incredible flow from indoors to outdoors," he remembers. His own home has accordion doors that open up on either side of the house, facing both the road and the pool, allowing a breeze to flow through. "I mean, this house doesn't look anything like a barn," Berg notes. "But spatially, that definitely was inspiration."

Berg's guiding principles have led to a home that serves its intended purposes. "We entertain a lot," he says. "There's always something good cooking at my house." The three accordion doors that separate the indoor space from an outdoor dining table are wide open throughout the summertime. "The kids are in and out of the house," says Berg. "All the outdoor areas are very much extensions of the indoors. For the two boys, I think the original design of the house allows them a tremendous amount of freedom to move."
When he's not in Springs, Berg and his family are in Manhattan, where Berg's practice Berg Design Architecture is located. When thinking about his two dwellings, he compares what's in the closets. In the city he has suits and formalwear. In Springs, the closet is filled with t-shirts, jeans, and sweaters. "There's nothing precious." Berg utters this same phrase when speaking of the architecture of the Hamptons home. "It's wood and stone and concrete," he says. "There's a nice tactile quality, and a warmth to the materials we used."

Having this comfortable home away from bustle of Manhattan has defined Berg's family life. "It's awesome to get out of the city sometimes," he says. "I live on the 12th floor of an apartment building in Washington Square park. It's sort of my kids' back yard. And it's great but it's a lot different to be able to do projects with them and make things… you can't do that in the city." Again, he notes how comfortable his home in Springs is, how warm and peaceful. "I don't know how we'd manage without it," he says. "We absolutely love it."