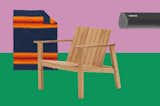 Neighbor's Nick Arambula Shares The Ultimate Backyard Setup
The outdoor furniture brand co-founder recommends his favorite fire pit, tableware, bug repellent, and more.
When Nick Arambula, along with co-founders Chris Lee and Mike Fretto, launched the outdoor furniture brand Neighbor in 2020, it was at the peak of the pandemic when the only safe thing you could do was hang outside. Early fans of Neighbor, at least, were able to chill in their backyards in comfort: The brand's line of beautifully detailed seating and tables are sustainably made, built to endure most weather, quick-dry (if they did get wet), and are offered at reasonable prices. The best-selling sectionals, intentionally designed with a modular system, means that the furniture can expand and evolve to work with the space—so if a customer were to move to another home with a bigger (or smaller) backyard, the seating arrangement can be effortlessly customized in a pinch.

The team, who met while working at bedding brand Tuft & Needle, stepped into the outdoor lounge space after they realized how much experience they had in "shipping big, bulky things to people's front doors," says Arambula of the light-bulb moment. That, coupled with the trio's passion for aesthetics, allowed Neighbor to zero in on the design elements that mattered. Take, for instance, the Haven collection which features teak wood frames, a warm and homey material that more closely resembles a couch you'd have in your living room. (Customers who prefer metal can opt for the Terra collection, built with matte-finish aluminum.) The quick-dry foam cushions are covered with a Sunbrella performance fabric made from recycled materials created exclusively and in partnership with Neighbor. "We're really excited about showcasing our design and having it become a topic of conversation when guests walk into someone's backyard," says Arambula.
Though Neighbor is based in Phoenix, Arizona, where temperatures can regularly rise to 120 degrees (and all the furniture still withstands those arid conditions), the team found that their "products have resonated quite a bit with folks in California and in the northeast, maybe a little bit more so than we had planned for." Arambula says that within the first year of launch, Neighbor "scaled from like a half a million to five and a half million in revenue." One thing's for certain: People will continue spending lots of time outside. With that in mind, Arambula shares his favorite products for the ultimate backyard setup, ideal for spending time with his family or for hosting pizza parties. In addition to an "eclectic smattering of Neighbor products," Arambula recommends outdoor-friendly speakers, Pendleton throw blankets for laying out in the grass, and a palo santo-scented mosquito repellent. "Our backyard right now has a traditional, even Tuscan feel to it right now," he says. "I guess that's what you get when you buy a house that's 75 years old."
Neighbor Terra Sofa with Table
"Our newest lounge collection Terra is made with a powdered-coated aluminum frame and extra extra plush cushions you can really sink into. It has a calming, minimalist aesthetic with big time comfort."

"Traditional Adirondack chairs are an outdoor staple but we found the design didn't fit in well with modern homes. When we designed the Low Chair, we kept the much-loved features like the wide seat and armrests, the slightly leaned back shape, and sturdy build, but made the silhouette more design-forward."
"With seating for eight people, this modern outdoor dining set allows for big gatherings. Both the table and chairs are made from solid, FSC-certified teak which can stand up to the elements with very little maintenance."
"Since we launched Neighbor, a fire pit has been one of our most-requested accessories. Crafted with cast concrete and lava rocks, Mesa functions as both an earthen fire on cool nights and a teak-top coffee table when heating is not needed."
"I love this collection from Leanne Ford because it's remarkably approachable regardless of your outdoor style. Most importantly, your kids can drop them and they'll stay intact."
"The palo santo scent helps to calm the sometimes overbearing citronella. Skeem makes a product that is the perfect balance for form and function."
"You can always count on Huckberry to curate some of the best products around. This cushioned indoor/outdoor mule is insanely comfortable and equally stylish."
"I'm a big fan of trying to make your outdoor space as functional as possible. We've seen a lot of our customers working to build a usable garden space. We love these utilitarian outdoor garden beds that come in a handful of outdoor neutral colors."
"Pendleton makes beautiful blankets that support the National Park Foundation. They have eight styles for eight remarkable parks in the US. I may or may not be biased with my Grand Canyon blanket since we're based in Arizona."
"If you're looking for an outdoor speaker, the Sonos Roam is as good as they come. It's durable, hands-free, and adapts its sound for your surroundings. I'm admittedly a Sonos fanboy."
Get the Dwell Newsletter
Be the first to see our latest home tours, design news, and more.