More Finds from The Vintage Bazaar
Recommended by
We recently featured The Vintage Bazaar as the Design Finder in our October Made in the USA issue. Here, founders Libby Alexander and Katherine Raz take us on a tour of their most recent event in May. Chicagoland folks, take note: the next pop-up will take place on Sunday, September 18th! Libby and I came up with the idea for the Vintage Bazaar over drinks one afternoon—actually, it was the first day we met! I had come to Libby's home to take photos for a home tour post on my blog, Backgarage.com. We hit it off immediately and ended up chatting for about four hours post-shoot and afterward Libby mixed me a cocktail. It was then that we discussed how it seemed like most of the flea markets in Chicago were either too pricey, too collectibles-focused (antique advertisi— what? I fell asleep), or all about overstock socks and stale nachos. Where, we wondered, was an affordable, curated flea market in the city that combined shopping, beer, and good tunes? We determined it didn't exist, so we set out to create it.
Our intention was to skip the run-of-the-mill antique junk-a-thon with the folding card tables and row upon row of yawning dealers hawking items bound for the curio cabinet and, instead, set out to find new and seasoned Midwest resellers who had their own distinctive aesthetic. In our minds, it was less about what re-sells on eBay and more about finding vendors with big style. Especially, because our intended audience was all about creating a distinctive look for their homes and wardrobe—whether schoolhouse primitive, urban industrial, mid-century modern, '60s retro kitsch, or a mix of everything.

Our most recent flea on May 14, 2011 took place in a vacant warehouse space in Pilsen. Over 50 vendors filled that space with everything from dead stock vintage eye glass frames to stunning statement jewelry to laser discs. This slideshow is just a taste of what was up for grabs.
This weekend we pop up in the Logan Square neighborhood in Chicago at the historic Congress Theater (2135 N. Milwaukee) on Sunday the 18th from 11am-6pm. This TVB boasts 75 vintage vendors; plus, local food sellers, a design advice booth, a mobile barber shop, a DJ, and cocktails. More information available on our website, thevintagebazaar.com.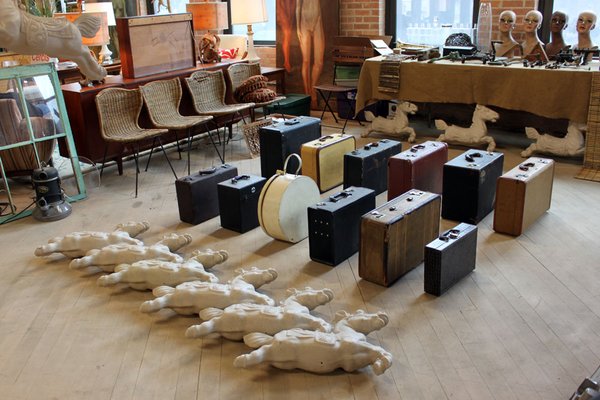 Libby Alexander
@libbyalexander
Libby Alexander is the co-founder of The Vintage Bazaar a modern pop-up flea market based in Chicago, Illinois. She covers vintage trends, small business, budget-friendly decor, and design dilemmas on thevintagebazaar.com. Her writing has also been featured on TheHairpin.com.
Katherine Raz
@katherineraz
Katherine Raz, 31, runs the online shop BackGarage.com, which specializes in modern vintage home decor. She is the co-founder of The Vintage Bazaar, a modern, pop-up flea market based in Chicago, Illinois. A freelance writer and web marketing consultant, her work has appeared in Time Out Chicago and the Chicago Reader. She lives in Humboldt Park with her husband, enjoys two-fisted drinking, electronic music, and estate sales.
Everybody loves feedback. Be the first to add a comment.
The author will be notified whenever new comments are added.